Here was my morning view from the couch, coffee in hand: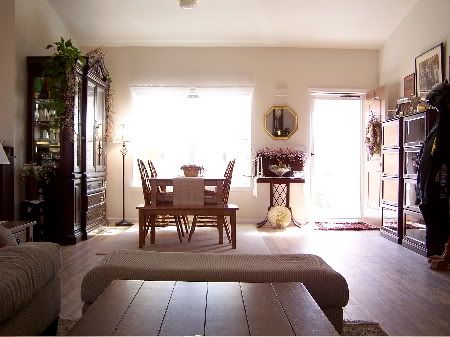 Sunlight pouring in, temperature not-too-hot, quiet in the neighborhood. After finishing off my first mug of liquid morning energy, I poured another and moved to the computer to check email and read blogs. Pearl, at
A Storybook Life
, posted "
Creative Spaces- Nurturing Our Need to Create
" (part one) and I was instantly rescued from the other blog entries regarding dilemmas in public education and teaching that had scrolled ahead before hers. After expressing her belief that we are each born with an innate sense of creativity, Pearl went on to share photos and descriptions of some of her friends' creative nooks and crannies, encouraging readers to "finally give yourself a little place to nurture the creativity inside of you!" Go, look, and be inspired!
Unlike her friends, I don't have a work/craft room or full-fledged work shop, rather, I truly have a "nook." One small area between the kitchen and laundry room, large enough for a desk and medium size bookcase. To sew, scrap, or make one of my wreaths, I have to spread my materials out along our large kitchen island countertop or across our dining room table. But for my reading, email communication, blogging, researching, photo printing, and organizing of craft materials and inspiration, my nook is just the right size. The only thing I'm missing are inspiration pinboards, something I hope to make for my own "creative space" in our next home (we relocate this summer). Until then, my
Inspiration Binders
will have to do, one for home decor, holidays and craft inspirations, and the other for kindergarten and teaching materials.
Here is the nook- I've taken several photos because it's such a tight space and difficult to see in one shot: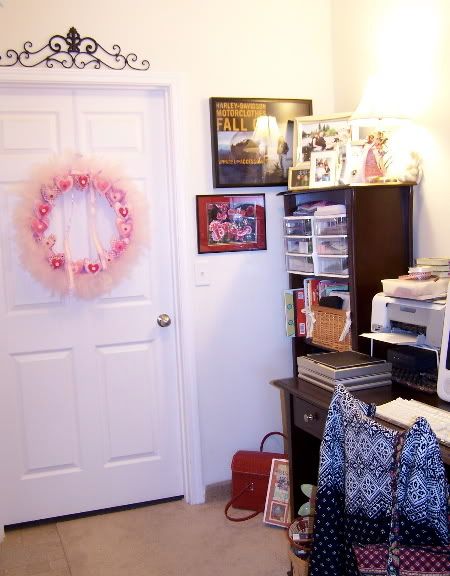 My desk, chair, and bookcase are tucked in, out of traffic's way (the door you see is the one to the laundry room), with enough wall space for my favorite artwork, photos, etc.
My killer whale art above my computer was made for me by my friend Karen (her family also introduced me to
Bunnies by the Bay
) while my
Russian lacquer platter
was purchased off of QVC years ago. Yes, yes, that is an "old" eMac, but guess what? It has everything I need at this point in time, except the ability to save space!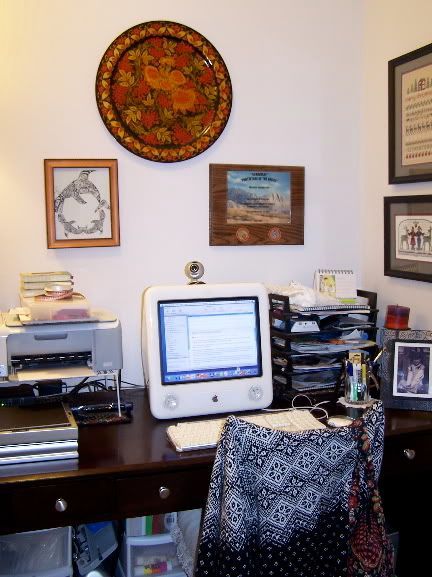 Anyone know how to get my webcam to work on Yahoo Messenger for Mac? Nothing, nothing, and more of nothing, despite my best efforts (and questions to Yahoo Groups), though the webcam will work on MacCam or something like that. I do
cross stitch
every now and again, so two of my samplers are framed and hanging on the right of the wall. And see those plastic drawer cubbies under the desk? They're full of glue sticks/adhesives, ribbons, paper cutters, hot glue guns, etc.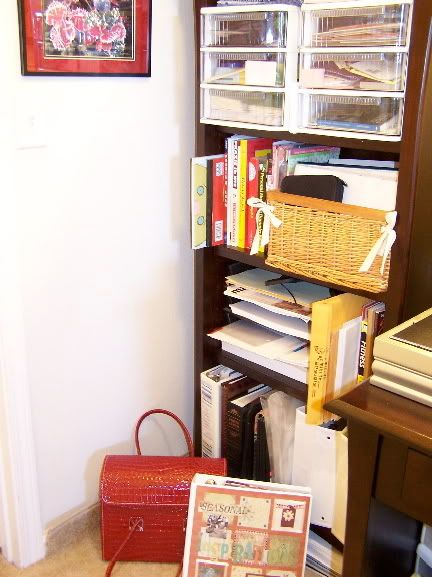 This is the bookcase next to my desk, full of books, construction/craft/printing papers, my binders-in-progress, and drawers of correspondence note cards. The red bag? It's an accordion file case, full of stickers, special papers, and other crafting embellishments, a Christmas gift from my grandmother.
On top of the bookcase are some of my favorite photos...wedding, me and my husband on our Harley, and our friends, Bill, Polly, and Shannon: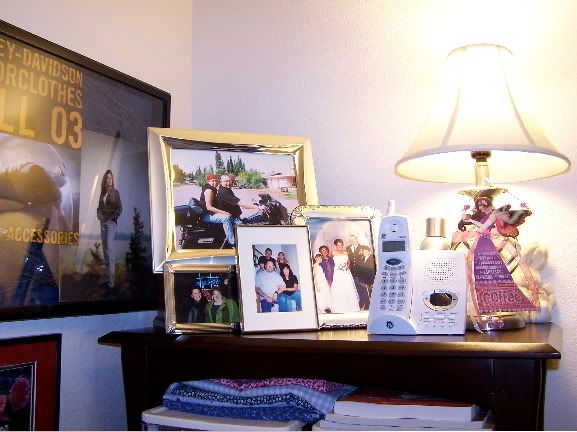 Nope, no piles of fabric in this house, darn it! Just a little to-do pile, stacked on top of storage drawers.
Finally, a plain white door just wouldn't do for my space: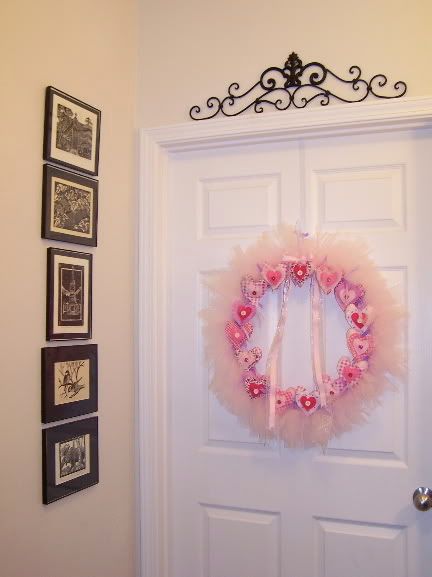 There's the
valentine wreath
I made, the pretty pinkness of it seemed perfect for spring, along with block prints made from wood block carvings by my friend Sue. Yep, she did them all, the perfect Alaska images for this Alaskan girl!
I have no idea where we'll be living when we return to Oz this summer... on post? Off? Three bedrooms or four? How many family rooms, and what's the size of them? Will I have a creative corner, a creative nook, a study, or a closet?
I'm dreamin' BIG!