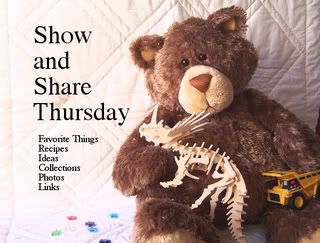 With spring just around the corner, our dark winter decor has been taken down, laundered, and packed away, and the "spring stuff" has been put up in its place. But there are a few characters, fluffy spirits, that stay up year 'round in our house, albeit in one little corner of my bedroom: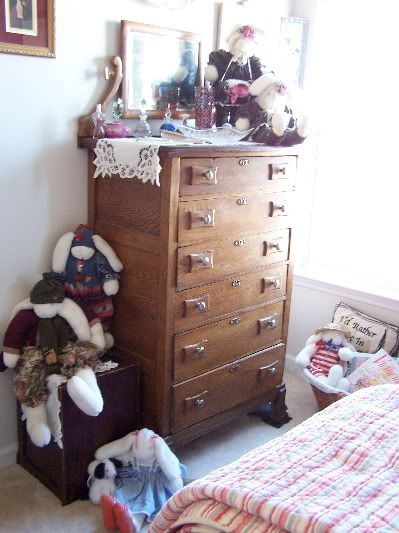 My bunnies. "Bunnies by the Bay Bunnies" to be exact. These aren't the ones you might find in Hallmark stores around the country, these are PRE-Hallmark. I place the blame for my love of them squarely on three peoples' shoulders: Karen, her mother Ginny, and brother David. There's only one bunny that's not in this photo, and it's the one that started it all: my angel Christmas tree topper bunny that Ginny made for me when I visited Oak Harbor, WA, too many years ago. Ginny helped me choose the fabric and details for bunny's dress, and David graciously donated his kitchen table to serve as Ginny's workspace one afternoon. Several hours later, I had a beautiful tree topper. She's carefully packed away with our Christmas decor, but is never far from my thoughts thanks to her relatives: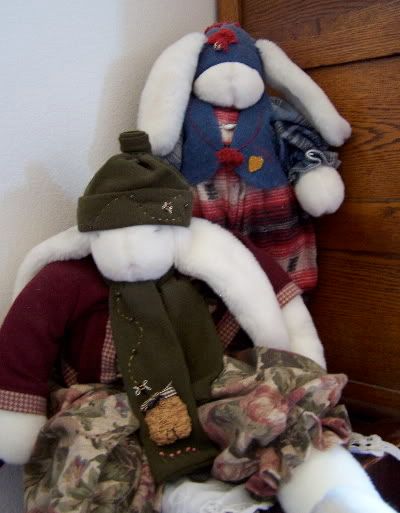 These two are dressed warmly with knit caps and long bloomers...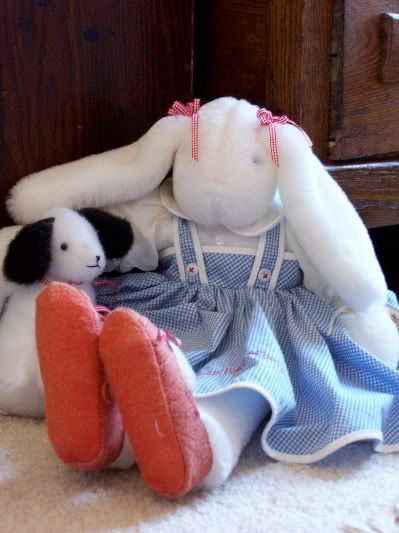 This one *had* to be mine after we were stationed in Kansas for two years...
These twins sit on top of my dresser, watching over my perfume bottles, crystal dish, and silver-tone dresser set...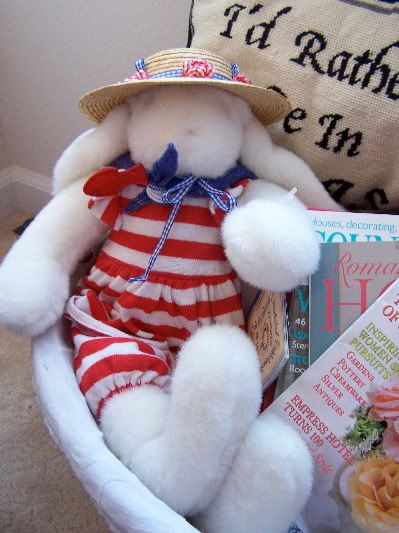 ...and this patriotic beach-goer sits in my magazine basket, next to my bed.
Yes, this thirty-eight year old woman has bunnies in her bedroom, but somehow, my collection doesn't inspire that awful "Ewww, stuffed animals..." comment when friends see them.
And my husband hasn't pitched them out the door. Good thing, because I know how to track them down on eBay. And will continue to do so. So there. Nyeah.
***********************************************************
More bunny love:
Betty Crocker Bunny Cupcakes
Check out "Fun with Max and Ruby" on
Rosemary Wells' homepage
(it's a link to the left on her page) for coloring pages and games with some of my favorite (bunny) characters created by the author of: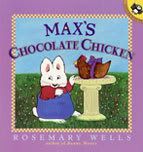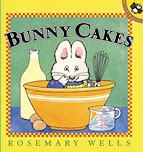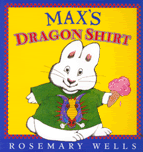 Here's a very cute
crochet bunny pattern
at Lion Brand Yarn: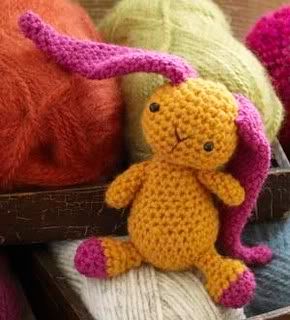 And finally, despite the cuteness factor, toy or chocolate bunnies are the best choices when it comes to deciding how to fill up your child's Easter basket. The
House Rabbit Society
provides lots of helpful information that will explain the reasons why live rabbits are NOT good Easter gifts.