My family and I will watch
The Wizard of Oz
,
Return to Oz
, and
Tin Man
this weekend because...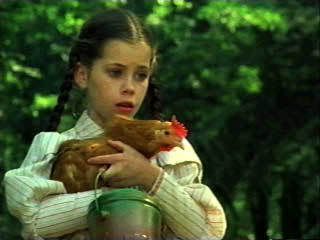 Uncle Sam says we are to return to the land of Munchkins, scarecrows, and ruby slippers this summer!
***********************************************************************
Please do me a favor and help me in the "oohs and ahhs" department once you see my latest attempt at scrapping (my husband doesn't quite understand the need for encouragement for this kind of thing). In preparation for moving this summer, I've been snipping and clipping my favorite recipes, photos, craft and home decor ideas for my Inspiration Binder. I've mentioned before that we have a weight limit for our household goods each time we move, so packing and hauling stacks of magazines isn't feasible. I just can't bear to be without all of the beautiful, creative and innovative ideas I come across though, so I sort the clippings by season/holiday or subject (health/diet; home decor; houseplans; fashion; crafts/patterns), pop them into page protectors and add them to my binders. Wouldn't you know it, I had to buy larger binders because my old ones were stuffed! Here's what I started with this afternoon: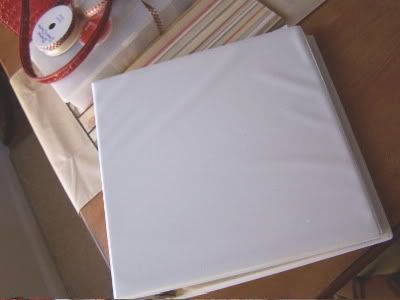 There were so many pretty papers I wanted to use, so I decided on a nine-patch pattern:
I used ribbon as border around some of the squares, and photo corners, brads, and embroidery floss on others:
Out came the chipboard:
Then tags,text, paper flowers and more ribbon: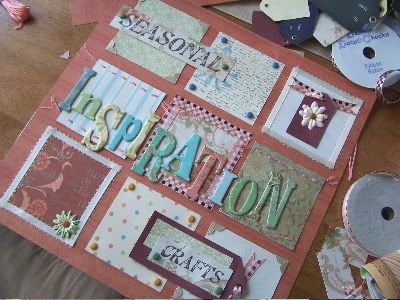 And a bitty photo of little ol' me when I was MUCH younger (don't worry Mom, it's a digital copy):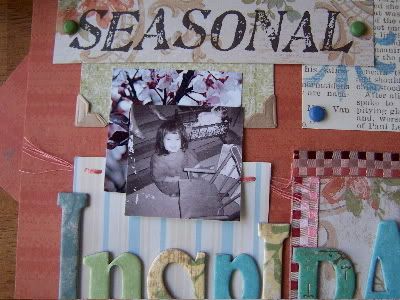 I was only able to finish the front cover before the toddler woke up from his nap, so tomorrow I'll be adding the spine detail and back cover: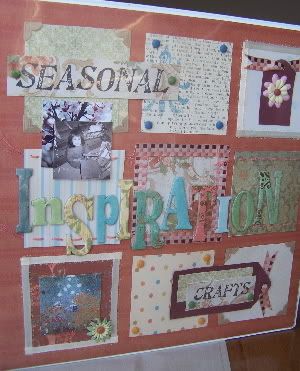 I feel like it's a bit of a "
sampler
" of scrapbooking ideas, though I didn't use stamps or "fancy scissors" yet...not sure if I will...