... and education majors! And homeschooling parents! And any and all other early childhood advocates!
Yes, I can be a bit exclamation-point-ish, but if you're a regular reader of Kindergarten's 3 R's, then you're used to it by now.
If you're a new visitor, directed here by
Lisa's
OWOH
blog list
or my other blog,
Twigs and Tulle
, I do hope you'll stay and wander a bit through my recent posts and archives! If you're not the teacher type, but have a teacher (or future teacher!) friend or family member who'd enjoy my blog, I do hope you'll pass this link on to him/her and leave a comment for a chance to win: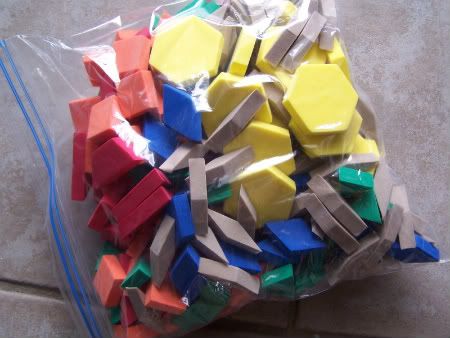 A large bag of pattern block shapes!
Students love to learn about the attributes of shapes and make creative pictures and creations as they work with these wonderful geometric models. Wonderful for a learning center or extra shape reinforcement activity, your children (or students) will love working with these manipulatives!
For a chance to win the bag, just leave a comment ~on this post only~
along with an email address or blog link
so I can reach you if you're the winner. If you're a blogger participating in OWOH, never fear, I'm on my way to visit you too!
I'll draw the winner of the pattern blocks on February 17- how exciting!
Don't forget to visit
Twigs and Tulle
for the giveaway post there (it's something crafty and cute!)!
Happy reading!