Years ago as a teacher in Alaska, my students and I enjoyed working together to identify the seasons: autumn, winter, spring and summer.
Autumn in Alaska is when the leaves on the trees change color and fall, the temperature takes a noticeable dip and stays there, and the scent in the woods is much less green and ever more cranberry-ish. If it's a rainy year, it's muddy. Autumn lasts about two weeks, so try not to blink or you'll miss it.
Winter is rather straightforward and long-lived. It's snowy, cold, and dark. Each morning as the hair in your nostrils frosts over, you catch the distinct smell of wood burning stoves. You might hear the slow crunch of tracks being made by a moose in your backyard. Block scheduling at school includes an extra ten minutes before the bell, before and after recess, and before dismissal for students to either take off and store all of their cold weather gear or to put it all on before stepping outside. Daylight stays on the horizon for a very short period of time each day, so try not to blink or you'll miss it. Winter can stretch from October to March.
Spring can begin in March, but sometimes holds off its solid start until April or even early May. Despite the snow melting and warmer temps, people know not to bother washing their vehicles no matter how mud covered they might become. Students alter their layers of clothing, swapping out snowpants for jeans or even shorts though it's still only twenty degrees above zero. With the sun's return, everyone purchases sunglasses and watches where they walk or drive to avoid puddles, lakes, and potholes. You won't be inclined to blink but you'll certainly be squinting as you await summer, noticing the buds on trees and the tiny spots of green popping up amongst the rotten slush-ice and debris that needs to be cleared away on an annual clean up day. Summer is just around the corner.
When summer arrives, mosquitoes have hatched from every water source imaginable, and bare legs, arms, necks and faces wear more bug repellant than sunblock. Students wear shorts and light shirts to school, teachers wear sandals and prep their homes for summer visitors, and many families give their green thumbs the go-ahead to dig in the dirt, plant seeds, or arrange glorious plant and flower varieties in hanging baskets, whiskey barrels, or tires left lining the driveway. Green explodes overnight. Aluminum foil covers many bedroom windows to block out the twenty-plus hours of sunlight. Neighbors might mow their fast growing yards at nine or ten o'clock at night, and children are tan from all of the time spent outdoors. If it's a rainy year, it's muddy. The school year ends in May, just in time for everyone to soak up as much sunlight as possible before autumn returns after the solstice.
My Stars in Oz observe a more evenly distributed progression of the seasons. Though school begins in August, it's still rather summer-ish in its warmth and appearance. Fall begins in October, and winter can be finicky when deciding whether or not to provide students and teachers with snow days right before or immediately after winter vacation. Spring is one of our favorite seasons because with the return of warmer weather comes flower blooms on many trees, worms crawling across sidewalks, and the promise of Easter egg hunts on freshly mown lawns. Summer is hot, and can deliver a bounty of produce from the garden, along with mandating several hasty moves to tornado shelters and safe rooms.
What observations do your students make as they track the change of seasons?
*****
To welcome the return of spring,
Carson-Dellosa
is celebrating
Very Hungry Caterpillar Day
with a giveaway! Check out the prize pack below: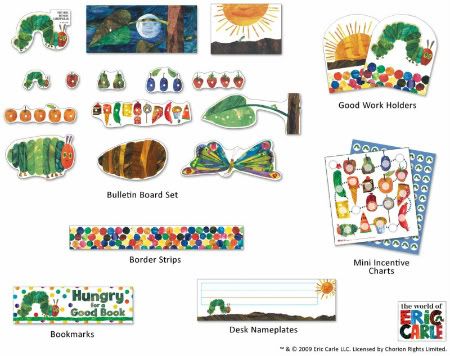 To enter, please leave a comment *on this post only* telling me which season is YOUR favorite. Please remember that I must have a way to contact you if you are the winner, so either leave a link to your own blog or an email address with your comment. I'll pick a winner on March 30!
Good luck!