I have always called my students my Super Stars- always. But early in my teaching career, despite the fact that I'd been raised a teacher's kid, I didn't put much thought into my classroom displays, be they student artwork, curriculum imagery and tools, or management systems.
"Stars" easily became a classroom theme after colleagues, parent volunteers, appreciative families, and classroom aides gifted me with star borders, star stickers, nameplates, folders and other decor. Even a print of Vincent Van Gogh's Starry Night has been featured regularly in my classroom for over a decade now. Referring to my students as "Super Stars" unifies us and makes us know we're welcome and we belong. Using star shaped nametags, magnets, and center tags also catches students' attention and helps other teachers and school staff to know which students are mine as we work throughout the building.
Last year I decided to
outfit the classroom with coconut trees
, inspired by Chicka Chicka Boom Boom: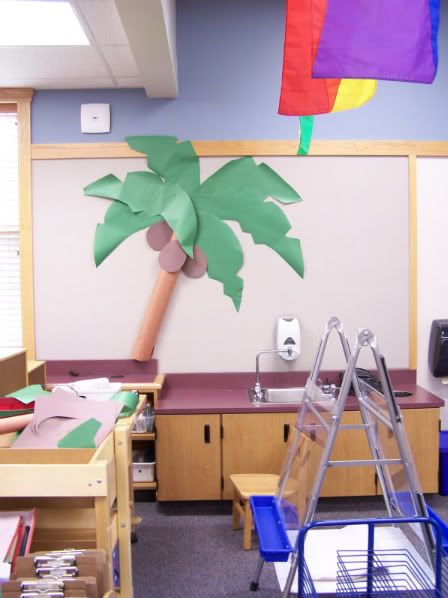 Though I didn't keep the coconut trees up year 'round, I used either a dark blue or light blue paper background month to month as the color really seemed to make artwork, sentence strips, and other displays POP: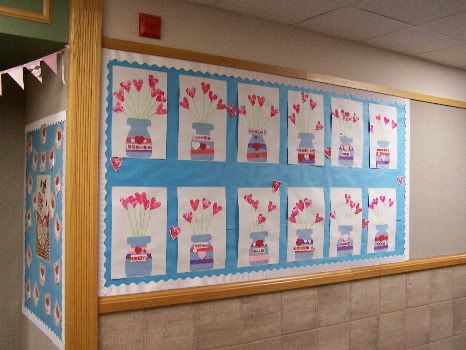 Solid color border or corrugated border frames students' work nicely and lets it be the focal point, but this year I couldn't resist purchasing some new patterned trim:
And what will go best with these colorful dots? Black and white checked and solid white trim!
My summer visit to
Pigtails ~n~ Inkwells
had me feeling like a kid in a candy store again. If you're new to teaching, you'll find that classroom shopping is often considered a teacher's second Christmas: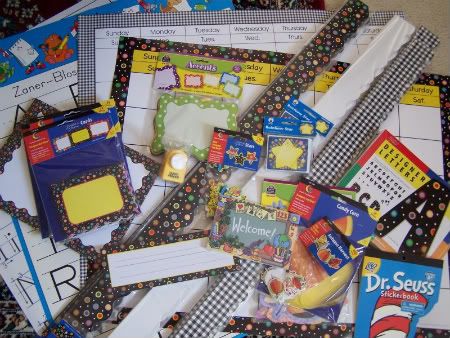 Classroom themes are often inspired by literature, movies, sports, animals and the state in which a person teaches, but it's important that any decorating theme used not overshadow the learning tools that students will use throughout the year or make the classroom so visually distracting that students aren't able to interact successfully and safely during work and play time. Some teachers choose to leave their rooms decorated with learning tools and student work only, which can certainly be much easier to manage as they don't have to take down and replace paper, trim, etc. As you look through your curriculum materials, purchase posters and make displays, you can choose which method works best for you and your students' learning style.
*****
Important decor tips:
~ Put your furniture and large center objects in place BEFORE you start hanging up bulletin board trim, posters, alphabet cards, etc. Many teachers end up awkwardly using their space according to where they've inadvertently hung their calendar. Determine what parts of your room will be used for your calendar/story time zone, your math zone, pretend play, computers, building, art, etc. FIRST and then plan your displays accordingly. Your students will have to move to or meet at established spots for the entire year, be they the student desks, circle area, centers, or your reading table, so their movement, view, and rhythm should be taken into consideration as you place their learning tools appropriately.
~ Make sure the materials and props you use for displays are SAFE such as UL listed twinkle lights, fire resistant carpeting and rugs, etc. and that dangerous objects such as tacks or pins are only used on displays where students cannot reach them.
Do not OVERUSE paper-
not only is it flammable but it quickly fades in sunlight. Replacing it might affect the school's paper budget as well as how much time you end up having to spend in your classroom modifying displays.
~ Some teachers prefer to use fabric as backgrounds on their bulletin boards. If you choose to go this route, try to find solid color material or fabric with unfussy prints as you want the sentence strips, words, and posters to maintain your students' attention.
~ When not in use, manipulatives, games and other classroom tools can be covered with solid colored
curtains
, calming down the visual background noise and putting the focus on the learning materials and special work being featured at that time. See the tan curtains on the lower shelving?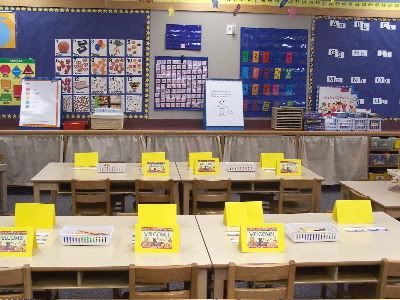 ~ If you plan on hanging things from the ceiling in your room,
obtain permission to do so first.
Consider
using clear fishing wire
instead of yarn (again, reducing the visual noise) to hang paperclips that can hold seasonal/curricular artwork: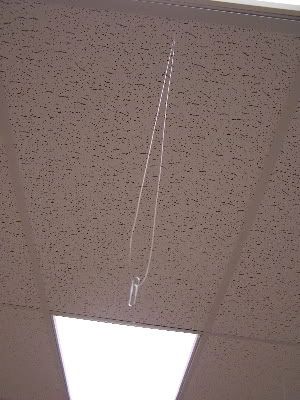 ~ If you are going to commit a wall to displaying student work, you can laminate construction paper (9X13), and use hot glue to affix wooden or plastic clothes pins to the top center point of the construction paper. Posterboard would also hold the clothes pins well. Make enough so that each student has a frame for his or her work and then staple the construction paper frames to the wall. Here's a link to Education World that
describes a similar display
, though I would
strongly caution you against
using hot glue on the bulletin boards themselves- damaging school property is not the best way to make a good impression!
~ Additional tips for getting a feel for how you'd like to set up your classroom can be found here.
What are YOUR favorite classroom themes or decorating tips?
*****
(The black and dotted trimmers photographed above are from Creative Teaching!)