Yay! Good for you!
On the first day you can get in to the school (and presumably, your classroom), make sure to take your digital camera, a measuring tape, a notebook and pencil, your lunch, snacks and drinks for the day, and your calendar. If you have supplies, books, and other teaching gear you'd like to drop off, go for it,
but don't plan on opening them!
Here's why: there are a few things you need to do before you wave your magic wand,*poof*, producing the world's greatest kindergarten classroom in cloud of glitter.
If this is your first year teaching at an already established school, chances are you're not the first teacher to use the classroom. You might walk into a completely empty room. You could walk in to find a mish-mash of furniture, equipment, and curriculum materials. You might find that your classroom has served as the storage or catch-all room for the rest of the school for the past five years. Or you might walk in to a fully furnished, fully equipped, almost completely developmentally appropriate teaching space, like I did this week: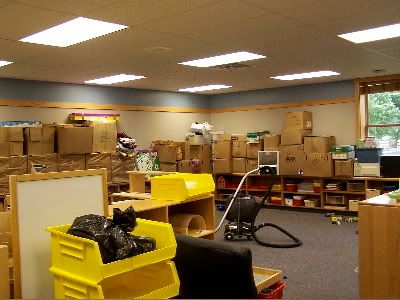 ACK! What? Before you have a stroke, let me point out a few things. 1) As a teacher new to this district, I've gone to school before many of the "regular" teachers have returned from their summer vacations. The summer cleaning staff is still dusting, washing, repairing, and vacuuming the rooms in preparation for the start of school. 2) Take a looksie at the bookcases along the back walls. Everything sitting on TOP of the shelves...is MINE. And those shelves make a full "L" along two walls in the room. All of the items on the lower shelves were already in the class. 3) All of the furniture has been moved to the center of the room so that the janitorial staff can clean the carpets around it. Once several more furniture shifts take place, the carpet will hopefully be shampooed.
Dear Daughter and the Toddler came with me to inventory what was in the room on Day One.
You need to inventory your room as well
. The inventory might be difficult to do because previous teachers will
store
the classroom's curriculum materials and supplies,
but they won't organize it or return everything to its original location and condition
. If the last teacher liked to keep half of the language arts books at the reading table and the other components of the curriculum kit at his/her desk, or in small tubs for individual students to use, chances are, you'll find that "system" still in place when you arrive. The best thing to do is to open every cabinet, cubby, and drawer. If you find items that seem to go together or have matching storage boxes, pull them all out and place them together in an easy-to-get-to location. Here's a photo of the math, science, and language arts materials and curriculum "kit" items I've found so far:
It's a "rough sort," meaning I haven't opened up all of the boxes or checked to see if the workbooks or flashcards, assessment booklets or supplemental activities are in order, much less present. I still have big books and flip charts to find and add to this pile so that I can reassemble the kits as much as possible.
You can sort your classroom items pretty easily for your inventory: furniture, curriculum kit elements, math manipulatives, language arts materials, puppets, computer equipment, stereo/headphones, toys, workbooks, arts and crafts supplies, classroom/school binders for policies, procedures, a professional library, etc. Doing a rough sort lets you know what you have, the condition of your classroom furniture and supplies, and points you in the direction for creating your to-do and wish lists.
I sorted paper products: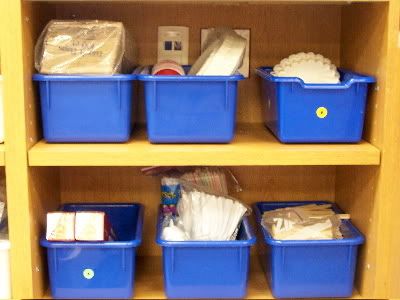 Then determined what I had for crayons, glue, kleenex, etc.: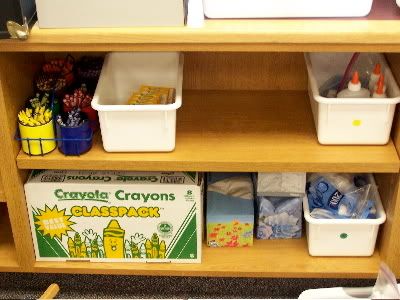 A majority of my afternoon was spent sorting math manipulatives and language arts materials. The blue tubs and the clear containers with white lids are ALL math items: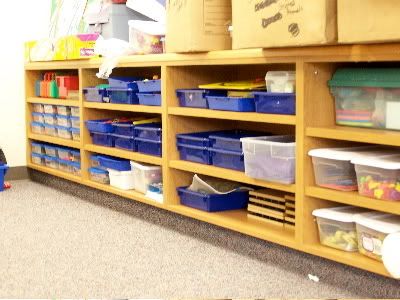 These two sets of shelves are full of puzzles, and ONLY puzzles (ignore the storage bins up on top, that's part of my seasonal decor, which I'll try to get to on Monday):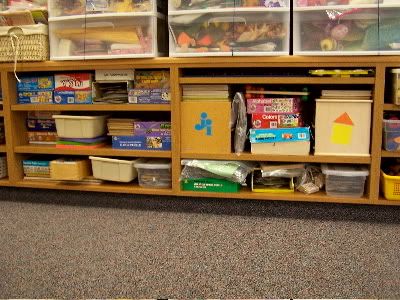 These clear and yellow bins are all fine/gross motor activities (Legos, building blocks, lincoln logs, etc.):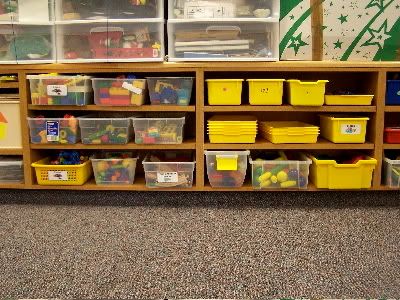 The bins already available in the classroom come in primary colors and are perfect for storage on the shelves. Blue will be for math, the yellow is for fine/gross motor, and next week I'll sort language arts/literacy items into red bins. Green will house science materials, and orange...who knows? Dear Daughter will get a treat from Dairy Queen on Monday afternoon after she peels every sticker and label off of the bins in my class. If you don't have children to be helpers in your room, consider asking a colleague if s/he has teens for hire who would like to earn their favorite fast food meal for lunch in exchange for doing the little things.
*****
Before you leave for the day, measure your room. Photograph it as well. Photograph the ceiling, the insides of cabinetry, the bathrooms, where your windows are located, your furniture, everything. You'll want the photos to refer to later, possibly in the wee hours when inspiration comes to you in a dream, waking you! Take notes too. How many staple boards or corkboards do you have for display? How many windows might you have to make or purchase curtains for? How many electrical outlets do you have and where are they located? How about computer jacks? If you have open storage shelves like I do, and you're considering covering them with curtains to reduce the visual noise (and possible temptation for more impulsive students), measure, measure, measure so you know how much fabric to buy (and purchase plain 'ol clearance material, okay?).
Make sure to ask your principal or building administrator if you're ALLOWED to staple items into the walls, hang decor from the ceiling, or affix hook and loop tape to hang curtains before you do it!
*****
Your calendar will help you remember when your new teacher orientation will take place, teacher inservices too, and you can set goals for each day you're able to spend in your classroom setting up. You'll want a day for inventory (and requesting furniture/materials if necessary) and your "rough sort," a day for furniture arrangement and the setting up of centers (with materials located where they will be utilized the most), another day for bulletin boards and classroom decor, a day for lesson plans, your parent newsletter, and grade level planning meetings, and another day getting your first week's activities, materials, stories, and required school safety drill practice planned and prepped in full. Make sure to ask if your school will host an Open House before school starts, or if you need to prepare for initial observations and assessments of your students before they arrive for their official First Day.
*****
If you have the time or just feel the urge to lay claim to YOUR classroom before you leave on Day One, you can set up your Essential Three that will help you through the rest of the week: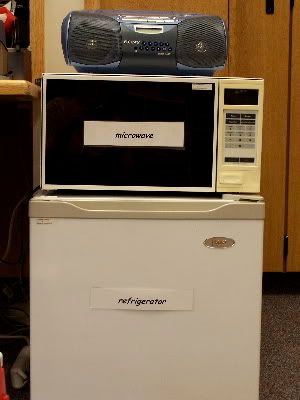 Welcome to Kindergarten!