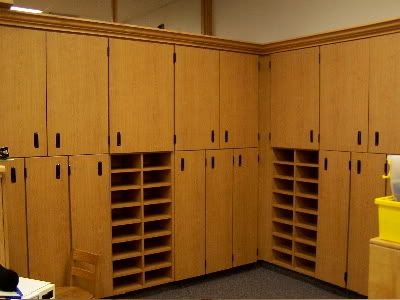 What wonderful cabinetry. And I know what's going behind the doors on the upper level: Books. Dear Daughter and I opened fourteen boxes of them, finding even more surprises left by the last crew of packers that prepared our belongings for the trip from Texas to Oz. Despite some bent corners and torn covers, it was good to see my favorite stories again after taking last year off from teaching.
Kindergarten teachers often teach concepts and skills organized into thematic units. "Autumn," "Animals," "Counting," "Colors," etc. I organize my books by how I USE them throughout the year. In August, books like
Miss Bindergarten Gets Ready for Kindergarten, Blueberries for Sal, Timothy's First Day of School, and Brown Bear, Brown Bear, What Do You See,
are within easy reach for reading time. So are books about autumn, colors, numbers, and friendships. My winter holiday books can all be found on the same shelf as my snow themed stories, and fairy tales are grouped together for the spring.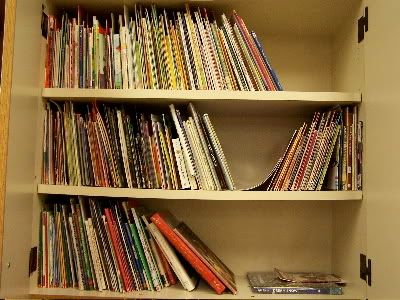 I also group books by author. Norman Bridwell's Big Red Dog Clifford keeps company with Marc Brown's Arthur, and I love featuring Leo Lionni and Patricia Polacco as favorite storytellers too! It's my system, books sorted by theme, and also sorted by author, and it works for me. Come October, I can pull down an entire stack of books featuring Halloween, bats, spiders, growing pumpkins, monsters, fire safety, and silly rhymes, and put them in the hands of my students. Each November, family stories, Thanksgiving tales, harvest, and Indigenous Peoples pique my kindergartners' interest.
Do you have sets of books, providing multiple copies so groups of students can read along with you or one another? Try sorting them into easy-to-grab tubs (mine are on the bottom row of the next set of shelves):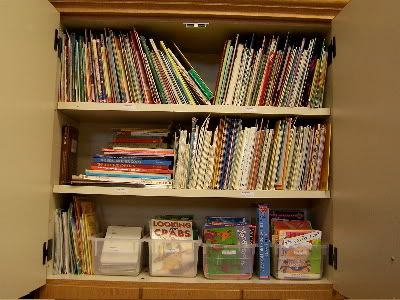 Big Books need to be stored either flat (making it difficult to find exactly the one you're looking for), in a book display specifically made for oversized stories, or in their curriculum kit box for easy access.
Find a system that works for you and your students- books are treasures!
*****
Don't forget to organize your professional library too (mine is full of books and binders):