Kindergarten is not only a place for potty words, it can occasionally be a place for tears. Students cry when they get hurt. Teachers cry with joy when a difficult skill is mastered. Parents occasionally cry during parent teacher conferences (a teacher's revelations about a child can be heartwarming, or heart wrenching...)
And of course, parents AND students might cry during the first day or week of school.
Parents, though ready to "let go," still have cutting-the-apron-strings-anxiety. Students have separation anxiety filled with excitement and possible fear over starting school. Parents in turn experience stress over their child's worries...
And who gets to coax parents and their children through this process? You, the kindergarten teacher, and be warned, not all parents are going to make it easy for you. For whatever reasons, some parents are going to bring their too-young-for-school children to kindergarten, despite the fact that younger students tend to have more difficulty coping with their fears and social needs than their older peers.
Step two: Decide to put some extra effort into acknowledging the anxiety that some of your students and their families might experience.
Step three: Try some of the following:
* M
ake "First-Day-Kindergarten-Kits" for PARENTS. Each bag contains a cotton ball, Kleenex, a packet of herbal tea, and a note from me:
Dear Super Star Parents,

Here's a little gift for you as you leave your precious one with me on the first day of school.

As you hold this cotton ball in your hand, the softness will help you to remember the gentle spirit of your child.

After you've gone home and dried your tears, make yourself a hot cup of tea.

Put up your feet and relax.

Remember that together you and I will work for your child to be the best s/he can be.

Thank you for entrusting your child to me for this special year. I will do my very best every day to be a nurturing guide for learning about and exploring this bright new world called "school."

Sincerely,

Mrs. Sommerville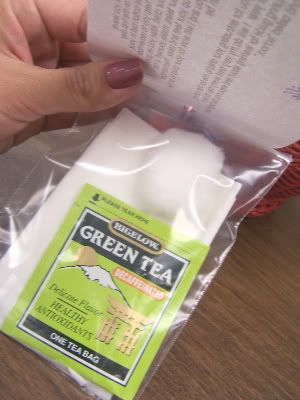 * Some schools have a "meet your teacher" night event prior to the first day of school, which is the perfect time to collect school supplies. Make sure your classroom is warm and inviting, and that you don't invade your students' space as they explore the room with their parents. Allowing children to gain some footing before making more social demands upon them is truly a gift. Simply put, stay out of their faces. DO make a point of saying goodbye to your students, reassuring them that you're glad you'll be seeing them again on the first day of school.
* Before the first day of school, make a special snack. I make kissing hands (see explanation and details here), enough for students and extras for them to take home at the end of the day to share with parents.
* Our students line up outside of our school building each morning. Though supervised by aides over the year, on the first day of school I make it a point to go out and greet my students and their families in person, ten minutes before the bell rings. TEN. It's during this time that I can smile, pass out/affix nametag stickers, praise the wonderfully straight line, admire the new school clothes, and even sing a familiar song (the ABC Song or Twinkle Twinkle Little Star). While not able to soothe all kindergarten students, being outside early makes it possible for me to redirect MY CLASS' attention away from other criers if necessary. Some students will eagerly vie for your attention, others will be more shy. Quiet smiles and nods, and kneeling down to a student's level all provide positive reassurance that I am a safe person, even though I'm still a stranger. If you stay calm and upbeat, your students and families will follow your lead.
* If your school's policy is to allow parents to escort their kindergartners inside on the first day, make sure to have an easy coloring page ready for your students at their desks. Parents can help their children find their cubbies, put away their backpacks, and find their seats. Have a timer handy, and tell your students that they can smile for pictures for a few minutes (no more than five) and that parents will have to go to work when the timer "dings." This is more of a hint for the parents of course- so set that timer! As parents leave, give them their Kindergarten Kit, a smile, and steer them out the door.
* Once parents have left, bring your students over to your storytime area, and read a favorite and familiar story. This year I read Chicka Chicka Boom Boom, though I also read The Kissing Hand later in the day. Coaxing and calm, write down a schedule of what will happen for the remainder of the day (use pictures if necessary- creating a visual schedule using Boardmaker or take digital pictures prior to Day 1) and check off each event as you finish so that students know that "home time" will really happen!
* If you're allowed to photograph your students, make sure to take candid photos of students actively engaged at centers, or coloring, or smiling during lunch. Be sure you're allowed to SHARE THESE photos via email or on your class web page before sending or publishing them. After I've made my Super Star Family distribution list, I email several photos along with written details of what we did on the first day of school. Here's an example (minus the photos):
Good afternoon Super Star Parents!

Though our day had its fair share of confusion (there are so many rules and routines to listen to, try to remember, and then apply; many new friends and faces with whom we want to socialize, even when it's the teacher's turn to talk) the Super Stars had a wonderful first day of school!

We read Chicka Chicka Boom Boom and The Kissing Hand (check your child's backpack for a special "kissing hand" treat), attended Art Class with Mrs. H., worked with math manipulatives (snap cubes, dino counters, and pattern blocks), enjoyed snack, played on the kindergarten playground for recess, ate lunch in the cafeteria, decorated the covers of our daily journals, watched a video of a back-to-school story (Crysanthemum, by Kevin Henkes) on the SMART Board, had an introduction to the names and sounds of the letters A-G, and rested during "Brain Break."

We learned our classroom rules:

Keep hands, feet, and objects to yourself (even when you think the teacher isn't looking).

Use your indoor voice.

Always follow the teacher's directions (even when you don't want to, and always the first time she asks). ☺


*****

"Brain Break" is a quiet rest time that takes place each afternoon from 1:35-2:05. Several students fell asleep today, while many others stayed still and relaxed. A handful might need an extra reminder that Brain Break is a time when their voices and bodies need to be still and quiet. Singing, humming, whispering to other friends across the room, kicking furniture, or shouting out loud (because silence can be awfully tempting to disturb) makes it difficult for our friends who need a bit of rest to adequately recharge their batteries.


*****
Thank you for reminding your child each morning whether he or she will be having "school lunch" or "home lunch. Students are to come in each morning, hang up their backpacks and coats, give me any necessary notes or messages (lunch money, permission slips, etc.) and then check the lunch chart. If your child has brought lunch from home, s/he will keep his/her wooden clip under the "home lunch" card. If your Star is purchasing a school lunch, s/he will need to MOVE HIS/HER WOODEN CLIP NEXT TO THE PICTURE OF THE FOOD THAT IS DESIRED. THIS LUNCH CHART ACTIVITY MUST BE DONE BEFORE YOUR CHILD SITS DOWN AT HIS/HER DESK.

Several students who brought lunch from home were unsure whether or not they needed to purchase milk. If your child is to purchase milk to drink with his/her HOME LUNCH, please remind your child to pay Mrs. H., our "lunch lady." If your child is NOT supposed to purchase milk, also make it very clear to your child that s/he already has a drink and can therefore go straight in to the cafeteria and begin eating.

Tomorrow, August 12, is "Red Day." Your child may wear or bring a toy (safe, no weapons) that is red. Additional color days and activities can be found on our calendar.

*****

Our Super Stars were complimented by our principal and several teachers today about their straight, quiet, and friendly lines in the hallway! Our Stars didn't touch other classes' artwork, they didn't pull down other grades' posters, and they didn't bother the first or second grade classes with noise as we walked by them several times today. Good job Super Stars!


* I schedule a week or two's worth of "color day" activities at the beginning of each school year. Students may wear or bring an item that matches the color of the day. Most students enjoy this kind of shared experience, and it's enough to encourage them to WANT to come back to school day after day. Give your students (and their families) something to look forward to as they work through learning the rules and getting used to their schedules and new routines. A quick email each day with a photo HELPS IMMENSELY. Students love to see their photos and share information about their day at home, and parents feel included, making them less likely to invade YOUR space as you develop your teacher/student relationship with their children.
* Be ready to affirm your students' feelings if they do cry. We're allowed to feel sad when we miss our family, but we're also allowed to feel excited, happy, confused, sleepy, and curious while we're at kindergarten. Putting on some happy yet-not-too-loud music to dance to can help raise spirits!
* Invite teddy bears or a favorite stuffed animal to school! Kindergarten students love to give their special friends a tour of "their" school. Being able to sneak an extra cuddle when necessary works wonders to soothe anxious five year olds (of course I bring MY favorite bear to school on Teddy Bear Day as well!).
* Know that there's a chance that you'll have a student who, despite your support and encouragement, is just not ready for kindergarten. In addition to separation anxiety, tears, hiding, excessive toileting accidents, or napping problems can tip you off that a child, no matter his/her chronological age, might not be ready for a full day program. You'll have to meet with parents to discuss the possibility of transferring the student to a more age-appropriate pre-school program, or half-day kindergarten classroom.