The Stars enjoyed making their patterned trees for their winter forest, but in December, we'll learn about some family holidays too, such as Christmas, Kwanzaa, Hannukah, Los Posadas, etc.
When I asked my Stars who their favorite winter character was, they surprised me with their overwhelming response:
RUDOLPH the
Red
Nosed Reindeer! I admit, I was expecting Santa or some elves, but thankfully, I had enough red glitter on hand for the Stars to use on their chosen art project:
Cut a large tan triangle from 9"X12" construction paper, make a stencil for antlers (or just run off a pair on construction paper and have the students cut them out), and use three construction paper ovals, two white for the eyes, one red for the nose. I think glitter sticks best to wet/liquid glue, so my Stars used a sponge-y brush to paint a thin layer onto the red noses before shaking red glitter on top.
I've asked my students *why* Rudolph has a red nose- their responses will be posted around the reindeer display next week: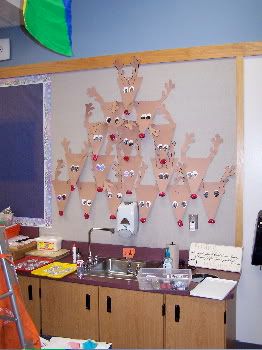 *****
Adding some red and green into the mix, our Fifth Grade Buddies helped us make elf characters! We chose skin color crayons to match our own complexions, cut out the face, mittens and shoes, and glued them together with a large rectangle body and rectangle arms. Their names were written in glue on the hats and multi-colored glitter was sprinkled on top (still drying when I took this photo):
*****
I've added multi-colored wooden star garland around the tops of the staple boards, and our winter forest display in the book/calendar/morning message center is ready for us to add winter words/vocabulary:
The pattern above our desks this month is *Christmas tree, candy cane, snowy tree, snowy tree, Christmas tree, candy cane, snowy tree, snowy tree*: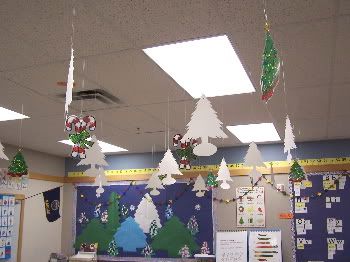 *****
In case you're worried I've jumped the gun in having my students help me transform our classroom before Thanksgiving, never fear:
~ Open House was Thursday night, so all of our November artwork, writing, and special projects were shared with families. Friday, all of it was sent home so that students could prepare for the Thanksgiving holiday.
~ This week, we'll only have class on Monday and Tuesday, having the last three days off for Thanksgiving Break. When the students return to school, it will be December 1.
~ Students will only have three weeks of school before Winter Vacation (and the last two school days will be spent enjoying our classroom party, taking artwork down to use at home, and prepping the room for January (I see mittens and snowflakes in our future!).
~
Students benefit from having ownership of and say in what happens in our classroom
. With very chilly weather visiting us for the first time this week, it became obvious winter is here to stay. Not surprisingly, the Stars were eager to say goodbye to all things autumn-ey.