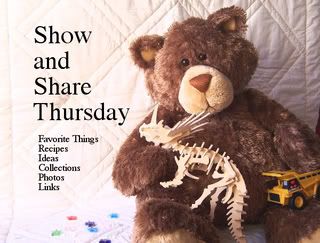 With the help of Dear Daughter, the classroom is *almost* finished. We had to do some rearranging of furniture today since I have fewer than twenty students presently (yay!), so I now have a larger table ready for math manipulatives (you can see the students' desks in the background):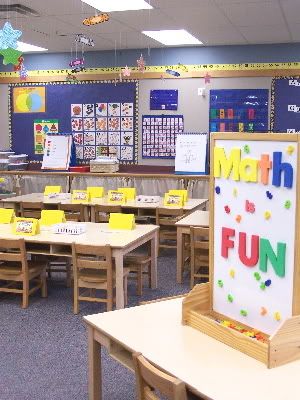 The listening center is set up at the front of the room for now, though the desk will probably house our laptop computers once they're delivered: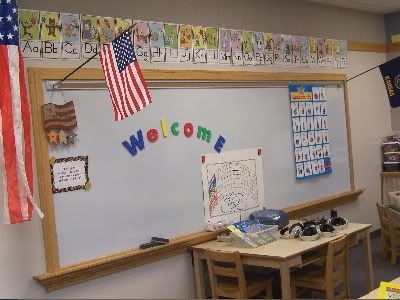 My students' desks have their nameplates ready for them, along with yellow "Welcome" cards for their first visit tomorrow. My colleagues made some very cute cards of their own, and made buttons that say "I'm in Kindergarten" for the students to wear the first week of school- I incorporated the extra buttons they made for me into my own cards (I'll try to remember to photograph the inside of one tomorrow):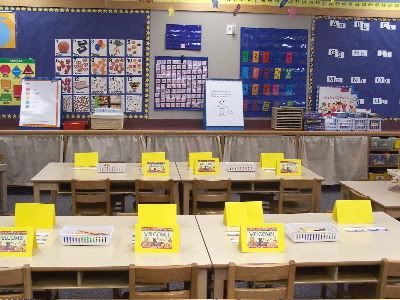 By the way, the nameplates are NOT stuck to the desks yet. I can't always be certain what name a student will choose to be called, and spelling errors sometimes occur, so parents will have the chance to help me correct the labels and tags tomorrow. I don't usually adhere the nameplates to desks until I know my seating arrangement will work- some students will work well together, while others create an unsafe, unfriendly, or just plain rowdy scene when seated next to each other. Cooperation and appropriate social interactions are key!
In case you were wondering, I do NOT ask parents to write their child's name on every box of crayons, glue bottle, pencil, or Kleenex box. Too much time is lost when students start the "Teacher, she took MY pink crayon," or "Mrs. Sommerville, he touched MY green scissors" routine. No, no, and NO. Putting items without labels into group tubs (I purposely empty crayon boxes into a larger tub before distributing colors amongst tables) and modeling how students should share and help is another important experience children should have. I will routinely ask students questions such as "May I please borrow a red crayon? I would like to help J. color this apple red. Thank you for sharing! I will give the crayon back when I am done." It doesn't take long for the students to adopt the polite tone and vocabulary in our classroom.
Our writing center (full of cards, envelopes, paper, pencils, crayons, and stencils):
One view of our reading center (do you like my apple quilt?), with a display about colors: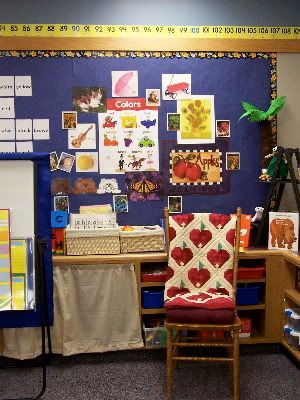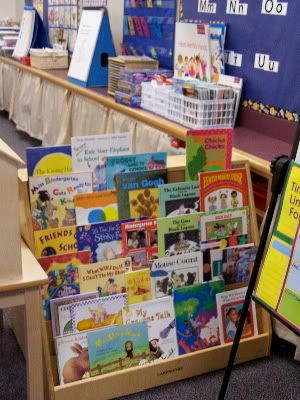 Calendar, months, days of the week, and weather at "circle":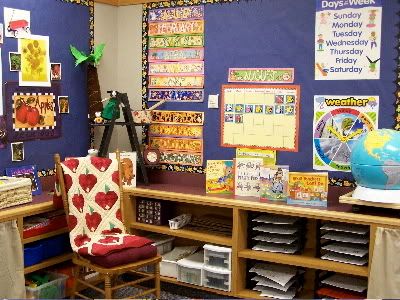 Pretend/Dramatic Play Center (have you noticed the little peeks of tan curtains in each photo? I sewed those last weekend, and hung them on tension rods to cut down on the visual noise):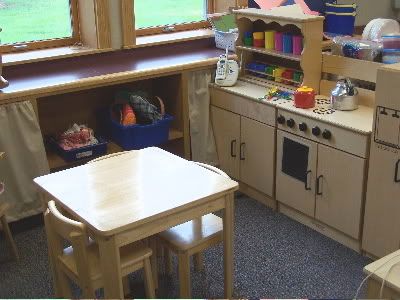 My reading table and teacher station (that's a Happy Birthday display on the wall) that should be clean and presentable tomorrow:
When I'm new to a school, I post a bulletin board display in the hallway about Me, Myself, and I. I post photos of me, my family, and blurbs that my students might find of interest ("I have a cat named Anni. Anni likes to watch dinosaur shows on television." or "I like glitter, jewelry, motorcycles, and trucks...") and always post drawings previous students have given me of...ME! (I'll photograph some tomorrow, today's turned out blurry for some reason). Since my favorite story is Where the Wild Things Are, I include a poster of a wild rumpus too!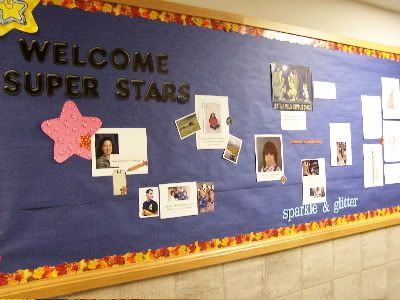 While the display isn't "all Vegas" or schoolish, its simplicity draws students and their families in to read, share, and look at photos, helping them to get to know me a bit better, quietly, peacefully transitioning them into their time spent with me.
My "welcome" display with students' names on stars, and quotes about early childhood and developmentally appropriate practice for parents to read and think about: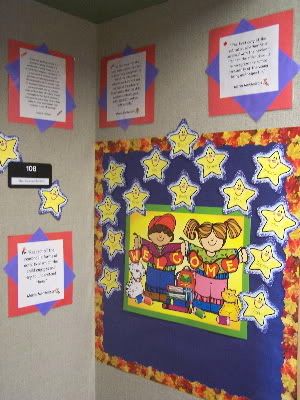 Should family members come by to visit at a time we're elsewhere, they can find us after checking our "locater" display: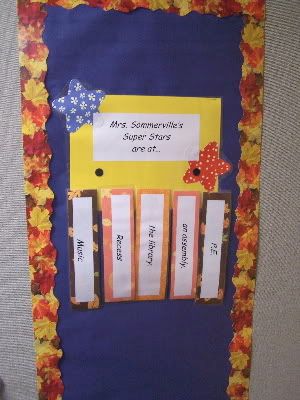 "Mrs. Sommerville's Super Stars are at:" and then tags with hook-and-loop dots on the back read "Music," "Recess," "the library," "an assembly," and "P.E." I still need to add a few more as we'll also visit the dome theater, computer lab, and 21st Century Classroom (Science).
*****
I'm off to bake cookies!