Perhaps this one can also be filed under "more stuff your teacher prep courses don't teach you."
My Super Stars were finishing up with their afternoon centers and had started to clean the room, when from two tables away I heard:
Uh, Mrs. Sommerville. There's something moving on the floor.
No, wait. The floor is moving.
No, I was right the first time. There's something moving on the floor.
It's a snake.
**Not** my favorite words, but words that, as a kindergarten teacher, I must respond to. Quickly. Appropriately.
C-A-L-M-L-Y.
Imagine my relief when I discovered that it was a baby snake. Small. Petite. Itty bitty even: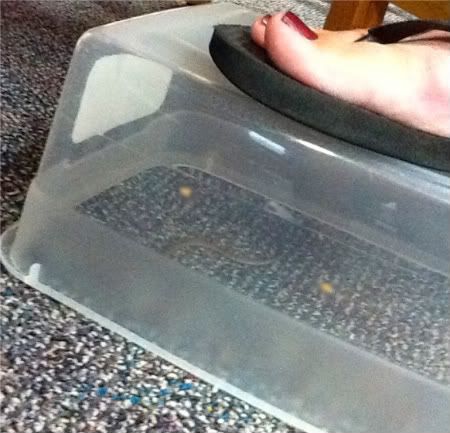 Can you see him? He was fabulously camouflaged, which made for an interesting discussion as my aide quickly found a camera and a parent volunteer gathered the students over into the cubby area to pack up for home time.
It was terribly handy that we had a clear manipulatives tub that could be dumped out and utilized as a trap...
...but it was this shot that had me laughing: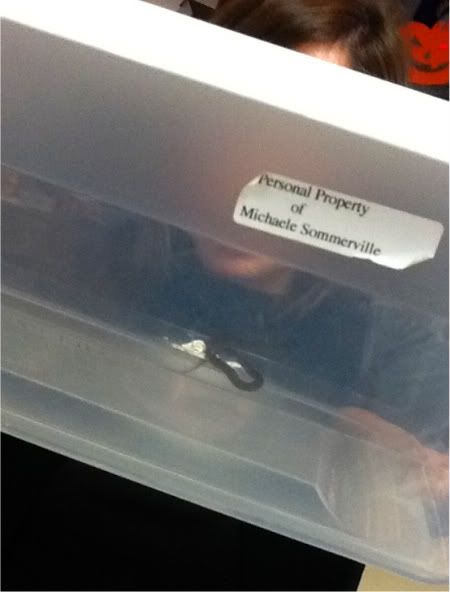 The snake is apparently my own
personal property
now.
Label your belongings, dear colleagues. Label them.
**grin**
*****
This is the second
classroom visitor
we've had this year! I wonder what's next...