When you're ready to prepare your bulletin boards, step---away---from---the---stapler!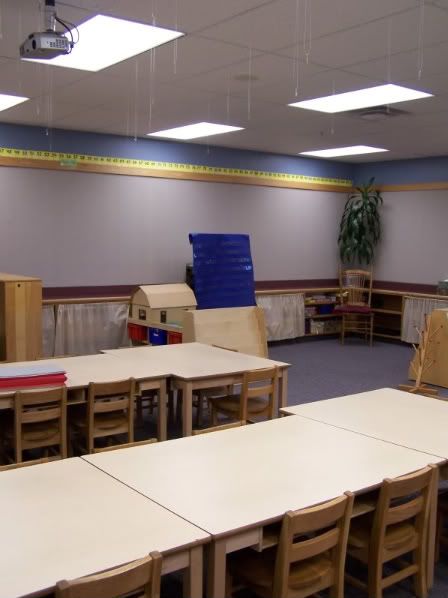 You've set up your students' desks, centers, and other interactive learning areas first, so now it's time to display posters, pocket charts, photos, a word wall, artful inspiration, learning objectives, a schedule, and math and literacy tools. To save time throughout the year, commit specific display areas for year 'round focus. The staple board above our sink and painting area is always for my students' artwork, while the board above my math center always features posters, work done by students, graphic organizers and other examples of math concepts. Our circle/story time area features our calendar, days of the week, seasons, weather chart, and literacy unit props, along with often-used words on our word wall and vocabulary the students like to use in their daily writing and reading written on sentence strips.
Additional student work can be hung on the cabinet doors above the students' cubbies and out in our hallway for others to enjoy.
Last year, a Chicka Chicka Boom Boom coconut tree greeted students on our art wall during the first two weeks of school: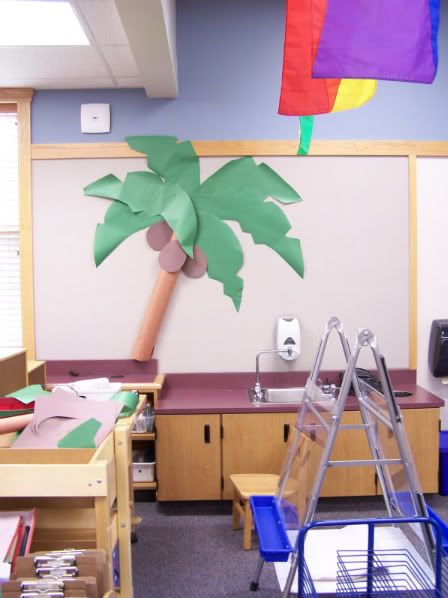 This year, my students will see an introduction to our first curricular themes, colors and shapes: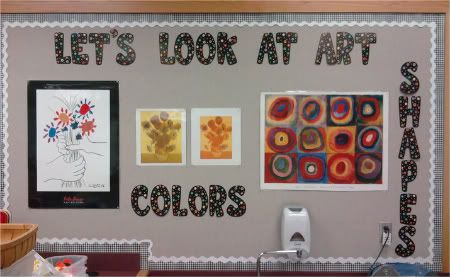 I love how the plain white border looks like ric-rac around the black and white checked trim, and the dotted punch-out letters add just the right *POP* to the display!
To place the prints and letters, I use clear push pins so I can reposition them as necessary:
Push pins allow you to move and tweak your displays with only one hole punched through your artwork/lettering. Once you have everything in place (and if your bulletin board materials are going to stay in place for a while), go back and staple each item, and remove the pins. If you change your artwork/learning tools weekly, you may want to use pins on their own- just make sure students can't reach them- pokey things can be quite intriguing and dangerous!
(To remove staples without ripping your students' work, your trimmers or posters, use a
staple remover like this
, instead of the
old claw/chomper looking doohickie
. WalMart and other office supply businesses sell both types, but the wand staple remover doesn't do nearly as much damage as the "jaws" remover.)
I'll share more photos as my room continues to come together!