Along with the Chicka Chicka Boom Boom inspiration, I've wanted to put up some of my favorite
Mary Engelbreit trimmer
:
Wouldn't you know it, I ran out! Three of my boards have the pretty flower trim, but the others have plain
Bordette
(kids love the bumpy texture and bright colors!) framing each display area. To tie it all in, I decided to make construction paper versions of two of the flowers featured on the M.E. trimmer: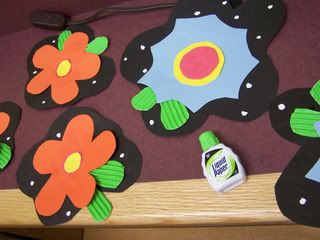 See the scraps of green Bordette that I cut into leaf shapes? I used liquid white out for the little white polka dots- hey,
use what you have!
Want to see how it's all coming along? Check back *tomorrow!*
*****
I use my bulletin boards for very specific displays:
~ student artwork
~ word wall
~ circle time/calendar/months/days/counting
~ math concepts
~ language/literacy elements integrated with science and social studies concepts
In other words, I don't believe in just slapping up and stapling posters from a school supply store randomly throughout the room. Other than my calendar/circle time display,
none
of the other stapleboard surfaces remains untouched throughout the year. Bulletin boards are teaching surfaces, visual reminders, areas of proud displays, and in many cases,
a hook
...
Visit tomorrow and tell me if you think my newest Super Stars will be chomping at the bit to start their kindergarten adventure after their "sneak peek!"