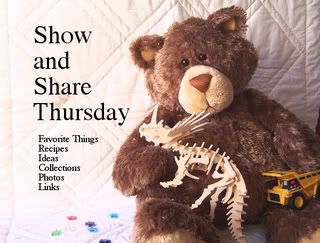 My mother started a thimble collection for me *years* ago, which thankfully several friends have continued to add to: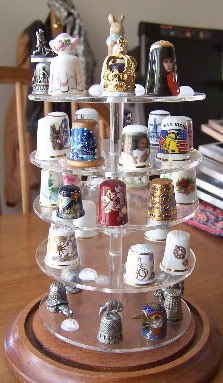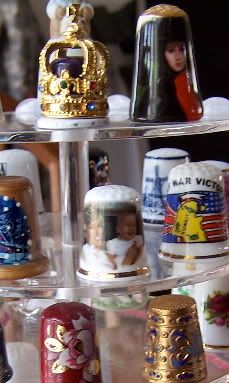 Pewter thimbles, porcelain thimbles, metal thimbles, figurine-style thimbles, Royal Family thimbles... though in honor of May Day, I'll show you closeups of the floral thimbles:
A daffodil and a shamrock: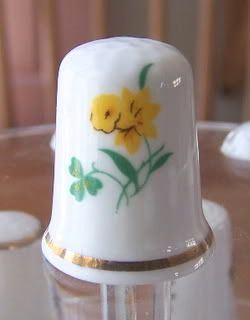 A red rose with golden leaves: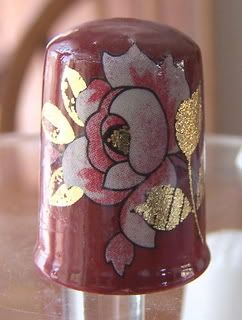 California sunflowers: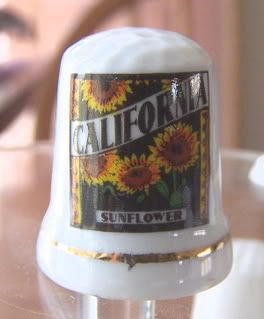 A lotus: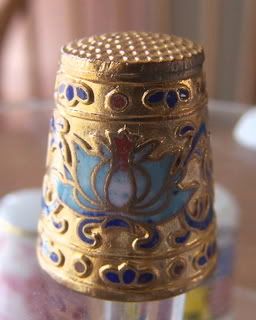 A vining flower on black lacquer: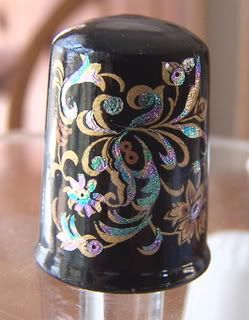 Pink porcelain rosettes on glass: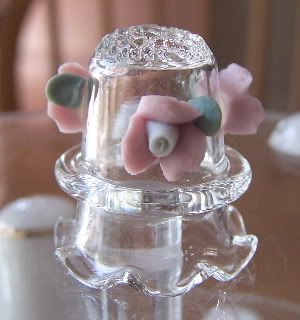 A bunny hiding amongst leaves and flowers: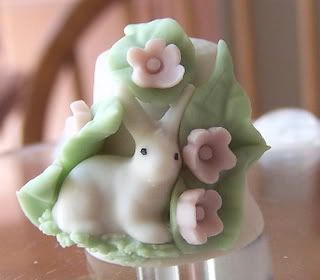 Old Country Roses:
Blue....what are they?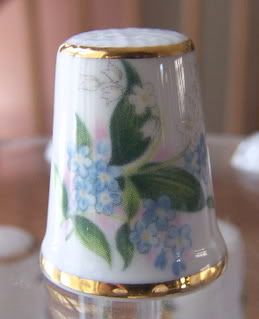 And my favorite, pink roses:
Do you know which thimble I'd find hilarious to add to my collection?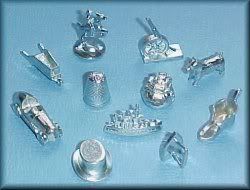 Yep, the Monopoly Thimble!
*****
Have you ever played the Thimble Game?
One person hides the thimble somewhere in a room. Children/family members are then allowed into the room to hunt for the thimble
one by one
. Once each child has found it, he/she leaves it and sits down in the middle of the room. After all the children have found it, the first one to find it gets to hide it the next round. Of course the giggles, twitters, inhales of breath, etc., make it easier for younger children to play as they take their cues from the other players who are trying their hardest to not give the location away!
*****
~Inspired Ideas, volume1, number 3
has arrived!
~Ez at Creature Comforts offers a
"D.I.Y. Paper Wrapped Soaps" tutorial
in time for Mother's Day and Teacher Appreciation Week...
~Skip to My Lou offers some of the cutest
Teacher Appreciation gift/craft ideas
I've seen in a looooooonnnnnnnnggggggggg time!
~Laura Rebecca's Kitchen is baking again, this time it's
Peanut Butter Cinnamon Raisin Oatmeal Cookies
...num!
~Kelly at
PhotoJojo
has found a web site that will
"oldify" photos
you choose to upload...
*****
And my newest blog discovery?
Liquid Sky Arts
(go, go, go, you know you want to!)
*****
Don't forget to leave a comment
here for my blue wreath giveaway
!