Funny, the inspiration you can find in the clearance sale bins at Michael's! Tulle on sale, in a color I haven't used before...some pretty pink buttons, a piece of pink felt, left over blue fabric, and some wavy blue sparkle yarn (also on clearance). Put it all together around a wreath form and voila:
With a few sheer pink ribbons throughout: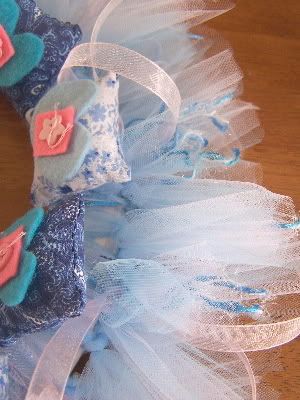 Blue felt too:
And no, it goes with NONE of our home decor. It's too foo-foo for Dear Daughter, and I'll be lucky to get the buttons I've chosen as "filler" back from the toddler in order to finish this pretty take on a blue mood.
Eureka!
A giveaway! Yeppers, I want to guarantee that this blue/pink/tulle combo goes to a blue/pink/tulle loving home! Leave a comment on this blog post by next Wednesday, May 5, and I'll draw the winning name to be posted on Saturday!
I'll post another photo once the wreath is completed- you know, after I sneak the buttons away from the toddler during his nap!~