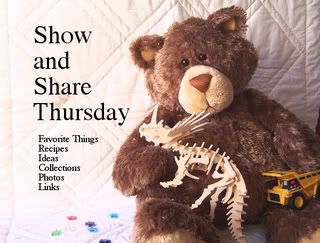 Little goodies. Small discoveries. Items compact enough to fit in my carry on bag as I flew back to Texas from a weekend in Oz...these are my newest little treasures for our home, with one or two treats just for me:
My new (not-so-new) copper kitchen set along with two little copper jugs and toy or "sample" irons: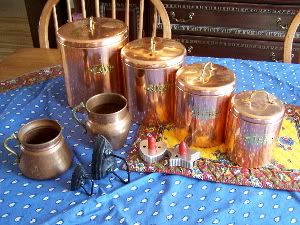 Yes, airport security did indeed open my bag to see just what the "metal triangle-thingies" were since they'd never seen anything like that on their x-ray machine before (so they said). Afterward, the guard helping me with my bag whispered that there were some great antique stores in Missouri that I should visit if I collect things like the
irons
, though she did recommend that I have them shipped/mailed back to home instead of bringing them onboard! Heh heh heh!
Here's my
Vera Bradley
purse in
retired "Americana Red
," a charming little Valentine card, my
petit point
purse mirror, bunny votive holder, and flying monkey plaque: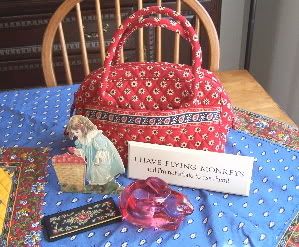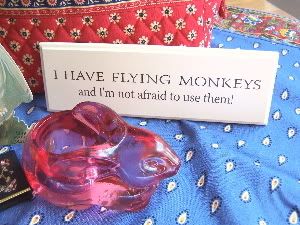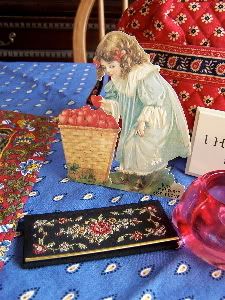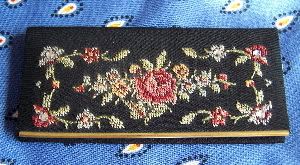 Look at the charming little beveled edge of the mirror: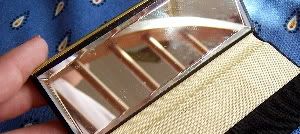 I even found baskets full of back issues of various magazines, including the only recently reissued/published
Victoria
(I love antique/collectible stores that recycle "newer" publications instead of just Time/Life mags):
This copy of Marie Claire Ideas is in FRENCH! Though it's several years old, the photographs already have me hankering for our next observance of winter holidays- I love the "Russian look" with the
nesting dolls
and rich colors: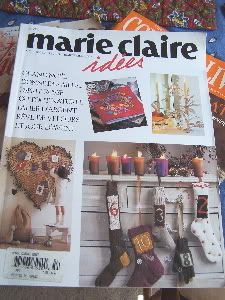 I feel some crafting inspiration coming on! But before that, I'll do my part and celebrate spring, changing the decor a bit this week. Easter falls in March this year, so I'll be skipping over my green/leprechaun/clover decor (sorry, St. Patrick!) and digging out the bunnies and eggs, hoppity hoppity hoppity!
******************************************************************
As mentioned in a previous post, I've been playing catch up, reading all of the posts I missed over the weekend, so I only have one newly discovered blog of note to mention,
Tracy Porter Blog
, who also posts about her newest finds and treasures, and even designs. She features vibrant items, a nice change from all of the pastel-ey/shabby-chic stuff that can be found at many of the blogs I frequent for home decor ideas and her energy and positive attitude have perked me up each morning I've been home. I hope you like her!