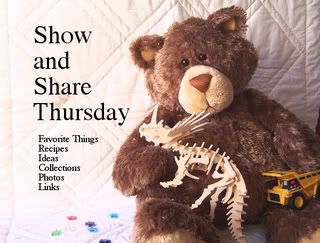 Today I'm tying up loose ends: finishing up the latest baby afghan (pink!), finding a nice "rule" font for the plain notecards I decided to dress up with patterned paper and stickers ("embellish" is too-grand a term for what I do, Queen Scrapbooker/Mixed Media Artist I am *NOT*), packaging up giveaway books in preparation for mailing on Monday morning (check my
previous post
to see how to enter), and taking Daughter back to the dentist to re-repair a chipped tooth. All this while my husband prepares for his latest hunting trip (which any military spouse will tell you is like a mini-TDY, so the house will finally be CLEAN!) and I try to decide what Valentiney-type of craft to busy myself with this weekend.
This afghan brings my baby-stash up to eight: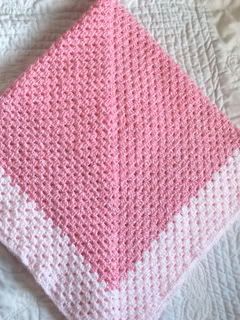 These are the cards that despite my lack of embellishment know-how still look more appealing with the little work I DID do to them: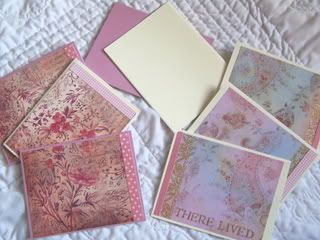 And here are the giveaway books, nestled in and ready to move to their new home where I'm sure they'll be shared and enjoyed: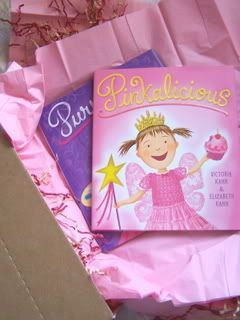 ***********************************************************************************
Some sites to share with you:
Alicia Paulson of
Pozie Gets Cozy
has a
site all about HER
up and running now, and has some very cute crochet patterns (available for purchase and download) that I'll have to take a closer look at now that I'm wanting to take a short break from afghans.
Songs for Teaching
has a
list of songs for Valentine activities
for February. Some of the songs have sound file samples you can listen to- my favorites are "
Valentine's Song
" by Hap Palmer and
"Valentine, Valentine"
by Denise Gagne. Head back to the home page and you'll find recommended songs for academic subjects, holidays, etc.
Though I've never been a Room Mother myself, Parents.com has some wonderful
Valentine Treat recipes
that have me looking forward to the time when the toddler has his first kindergarten class party several years down the road- I can hear the oohs and ahhs already!
************************************************************************************
Remember, if you have a craft, recipe, photo, or idea to share as a teacher, blogger, crafter, parent, or military spouse, feel free to email me at michaelek1(at)yahoo(dot)com by each Wednesday of the week so I can add them to Show and Share Thursday- yep, I'm happy to link back to you!