I promised you literacy-enriching and girlie!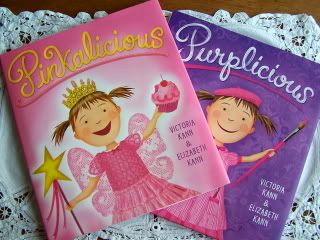 One of you will win "Pinkalicious" AND "Purplicious," by Victoria and Elizabeth Kann, both hardcover!
From the dust covers:
"Pink, pink, pink. More than anything, Pinkalicious loves pink, especially pink cupcakes. Her parents warn her not to eat too many of them, but when Pinkalicious does...she turns pink! What to do?"
and
"Everyone knows that Pinkalicious loves the color pink. But one day at school all the girls decide that pink stinks and black is in. When Pinkalicious does not agree with the crowd, they tease her. She develops a bad case of the blues and wonders if anyone out there shares her love for all things pink."
These would be wonderful books to add to one's home or school library, or to win for one of your friends who has a Pink Princess living at home!
What to do?
Leave a comment on *this* blog post
(no need to leave your address, I can get that from you via email should I draw your name)
or email me directly at michaelek1(at)yahoo(dot)com by this Sunday, January 20.


I will have my girlie-girl daughter help me draw the winning name and post the result on Monday's blog, so make sure to check back in after the weekend!
Only one entry per person/family please...
thank you
for helping me celebrate my 100th blog post!
Good luck!