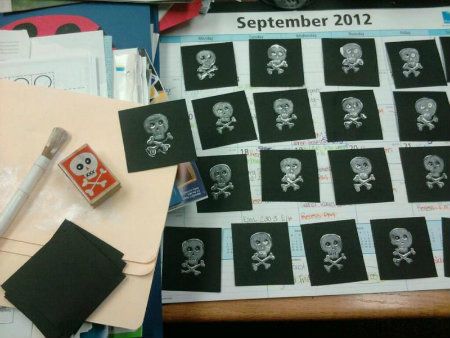 Are YOU ready for International Talk Like a Pirate Day?
Check out Walmart's holiday/party section for new Halloween stamps: that's where I found the perfect skull and crossbones ($1) for the Jolly Roger detail on my Super Stars' pirate hats!
*****
Talk Like a Pirate Day is the perfect celebration for students to explore the letter Aaaaarrrrrrrrr (R), play with language and expand vocabularies (Ahoy Matey! Shiver me timbers!), expand their dramatic play opportunities past the "house center," and even develop gross motor skills (walking the plank). My husband is loaning me a wooden ramp from our trailer so that my Stars can balance, giggle, pretend, and giggle some more! If you don't have a wooden plank available, use colored paper: a sea of blue with a "plank" of brown on top of it.
*****
Check out more pirate activities at:
~
Nancy Nolan's Kindergarten
~
Storytime Katie
~
Supermom
*****