February is Dental Health Month!
Kindergartners have twenty teeth before they start to loosen up, wiggle, and get pushed out by their adult counterparts, so if the sight of teeth hanging by a thread or blood grosses you out, brace yourself, because kindergartners work hard to earn a visit from the Tooth Fairy!
There are three different ~kinds~ of teeth working each day during breakfast, snack, lunch, afternoon snack, dinner and dessert:
Incisors
help us to bite.
Canines
rip or tear our food.
Molars
grind, grind, grind food down to help our digestive system.
Here's an art activity that helps students count, track, and follow directions as they visit with one another to share the information they've learned about dental care:
Our smiling faces were shared in the hallway on our bulletin board, along with information we learned about teeth: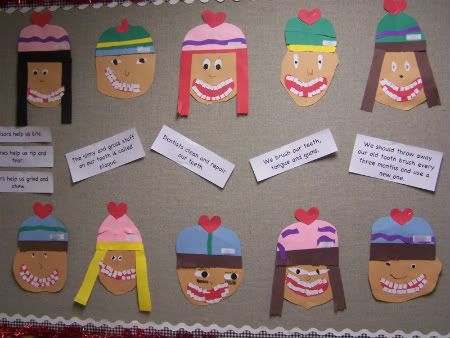 Look at those beautiful smiles!