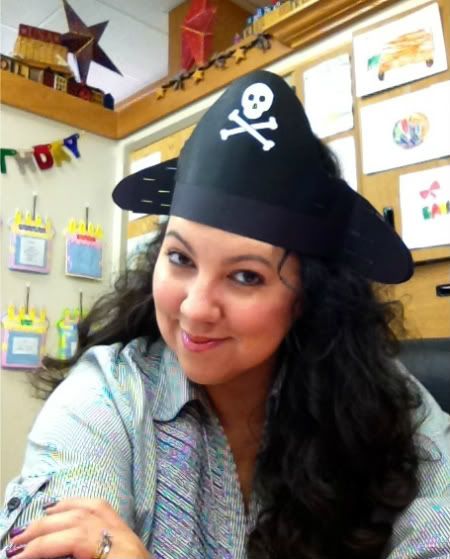 Sure, you'll wear ~many~ hats as a teacher: teacher, snack-provider, disciplinarian, nurse, speech therapist, and soother-of-boo-boo's-and-owies.
But there's a good chance you'll also need to be a PIRATE, and possibly even...
... a MOOSE.
Make sure to staple paper headgear so that the prongs face to the OUTSIDE of the band, otherwise you'll risk ~major~ snag and scrape damage.
That's what I'm here for:
teacher fashion heads-up and advice.
**grin**
*****
Here's a great
pirate hat and eyepatch template
from
Made It
~
The Sassy Pepper
shows us how to make a very cute
"Sunday" or fancy hat
with newspapers...
Want to make the traditional triangular newspaper hat?
Click here
for a photo tutorial~
Paper bunny ears
found here.
..
... and why not use a
paper plate to make a flower crown
?
*****
Winners for my Bailey Book Give Away have been selected, but I haven't heard back yet from the Scholastic representative. Once I do, I'll let you know who the winners are (nope, I'm not trying to leave you in suspense)!