It was *the* question of the week!
"Mrs. Sommerville, you're weird. You painted our hands for autumn trees. Then you painted our feet for Halloween ghosts. Now you're painting our hands again for Thanksgiving turkeys. What color are we going to have to paint our hands (insert eye roll from five-year-old here) for the next holiday?"
Well... uh...
Hmm.
I assure you, I don't *always* paint my students' hands. Sometimes I let them get sticky in other ways:
Okay, okay, so they painted first, but then they got all goopy painting white glue onto pumpkin templates cut out of old manilla folders. I added the pipecleaner "vine" onto the pumpkins with a hot glue gun after school.
November means it's time for patchy pumpkins, terrific turkeys, and venerated veterans, so I'll post photos of the finished bulletin board later this week!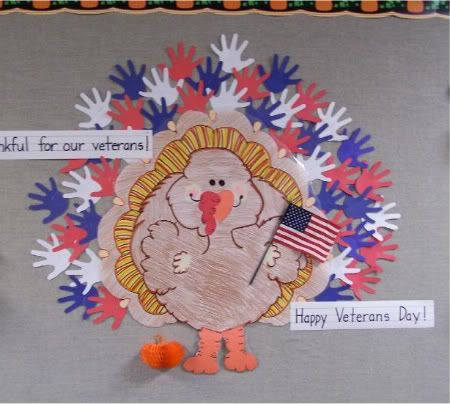 To answer my student's question: brown. I'll be painting hands (and possibly feet) brown next month.
So there.