~ In case you were wondering, you can take the girl out of Alaska, but you can't take Alaska out of the girl...
Start with brown paint, ticklish toes, and a squirmy kindergartner...let the footprint dry, and bring back Mr. or Miss Squirmy for some more kinesthetic fun...adding the handprints (antlers/rack):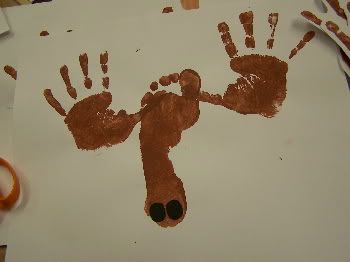 Cut out and glue on black construction paper "nostrils," and cut out the moose head: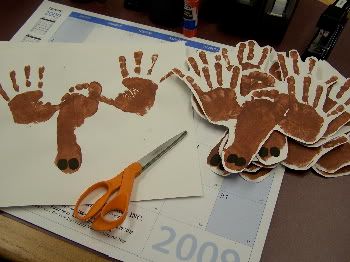 Glue the head onto a sheet of pre-printed paper ("Merry Chris-Moose"):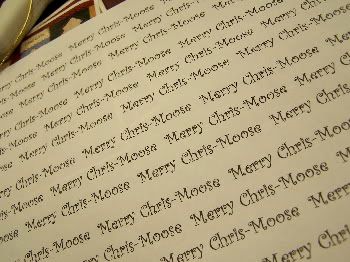 And then laminate (the footprint and handprints are kindergarten keepsakes, don't you know?) before adding googly eyes and sparkly tinsel across the antlers (not photographed, but I use a hole punch on each antler, then use a length of wired sparkly stars across the moose's head, taping the wire in place on the backside of the colored paper, out of view) for that holiday touch: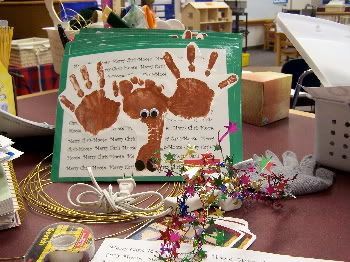 *****
If you'd prefer to wish everyone a Merry Chris-MOUSE, just have your students paint ONE hand, pressing their print onto paper sideways (so fingers and heel of hand run east/west instead of north/south). After the handprint has dried, add a small (very small!) pink pom pom to the end of the middle finger as a nose, glue a small googly eye above, and add a yarn or pipecleaner tail (the pipecleaner can be twisted around a pencil first to make it curly). Add a small pink oval ear, and glue the mouse to the front of a card or piece of construction paper.
*****
What's a
moose
? THIS is a moose: