Rarely does a teacher have *exactly* the bulletin board space of his/her dreams.
It's too small or non-existent.
It's far too large and overwhelming.
It's located in a less than ideal place.
You already know that my classroom is well equipped with staple boards. You've also seen the hallway bulletin board ideas I've shared in my archives. But I may have forgotten to tell you: even with boards that are the right size and in the right location, it can be difficult to to produce "finished" displays, especially if much of what your students produce needs to stay firmly in their grasps as learning tools.
Our
scarecrows
went home this afternoon, and my students' self portraits are stored in their portfolios,
waiting to be displayed with portraits they'll complete at the end of the year
. Bare hallway boards needed to be prepped with new trimmers and a holiday-ish display that will eventually include several different types of Halloween art and math projects. The solution?
Trimmers that can pass in both October and November, and a catchy little phrase die cut out of black construction paper:
The first phase of the seasonal display? White
footprint "ghosts,"
with patterned streamers: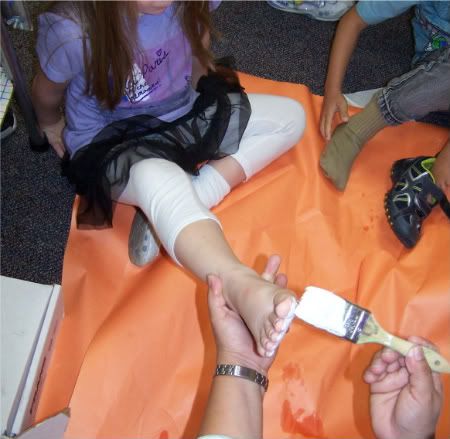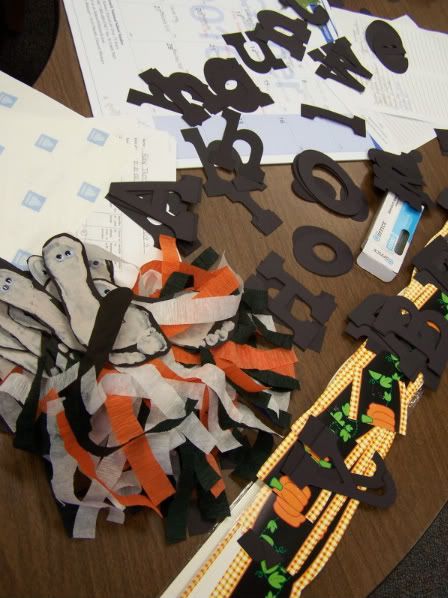 The footprint ghosts are a nice start to our display, which will eventually include deckle cut jack-o-lanterns and Halloween cats. A little bare, but still engaging and enjoyable. Keep it clean, keep it simple, and you can add to it as the month or unit goes along.
A work in progress!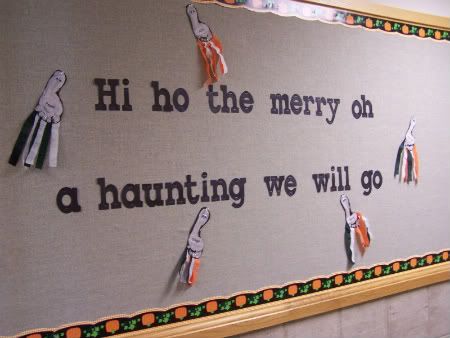 *****
The footprint ghosts, while cute, don't offer much space for patterned streamers... try some
pattern jacks
instead!