Looking over my "search stats" info from Lijit once a week, I've come to realize that there are quite a few of you out there who ~reallyreallyreally~ want to know how to decorate a kindergarten classroom for the holidays. I enjoy a mix of curriculum-covering essentials, kid-art, and props for language and literacy. This month, the mix includes bare feet, internal organs (external body parts too), and construction paper characters with predictable story text: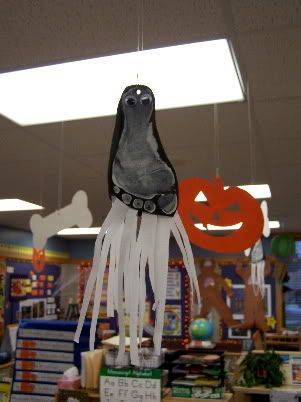 "BOO!" says the googly-eyed footprint ghost! After painting students' feet with washable white paint, I let them dry. Our awesome classroom aide cut them out and added the wiggle eyes and streamers- too cute! We had enough to create a math display too (we have been learning about sets of numbers):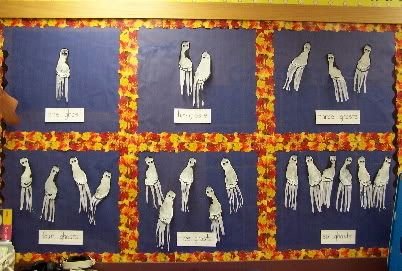 For science, a parent volunteer, my aide and I traced each student's body, cut out the shape, and hung them to the walls (yep, kindergartners "climb the walls" in my room!). Students then learned about external body parts and internal organs. They learned that our brain has three parts (the cerebrum, the cerebellum and the brain stem), our heart is a muscle that pumps blood (and no, it's *not* shaped like a valentine, but resembles a fist), our lungs take in oxygen as we inhale and release carbon dioxide as we exhale, our stomachs digest our food and contain a substance called stomach acid (several students asked if it was the acid they smelled whenever they threw up...good question!), and our intestines help us get rid of wastes that our bodies don't need.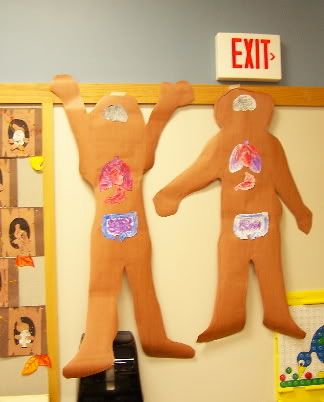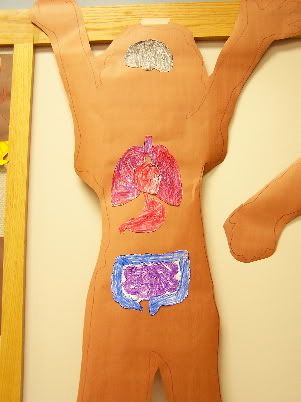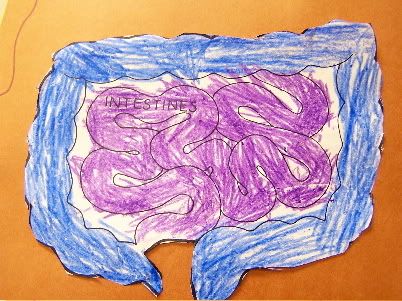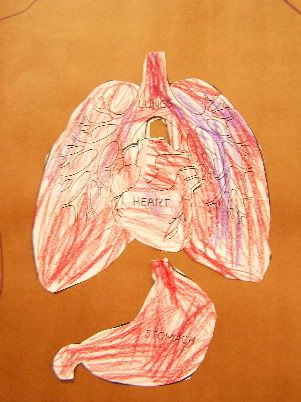 Finally, my students used
Brown Bear, Brown Bear, What Do You See?
as inspiration for a Halloween predictable book that our Fifth Grade Buddies helped us illustrate last week. Our version is titled "Green Witch, Green Witch, What Do You See?" and includes a green witch, a black cat, a white ghost, a blue bat, an orange pumpkin, a purple monster, a brown werewolf, and a gray spider. Students took the books home, but wrote out the story on lined paper so we could display it on our wall:
*****
Since this is my return-to-the-classroom-year, I'll make sure to set up blog posts in advance for *next* school year so that readers can view ideas BEFORE the month begins...sound good?
*****
Hope you have had a terrific week- I'm chatting with parents and families for parent teacher conferences today!