Not everyone is crafty. Not everyone is fond of power tools. Not everyone believes he or she can find a creative bone, flair, or inspiration residing within.
That's why
we share
, my lovelies.
What would you say if I told you that this: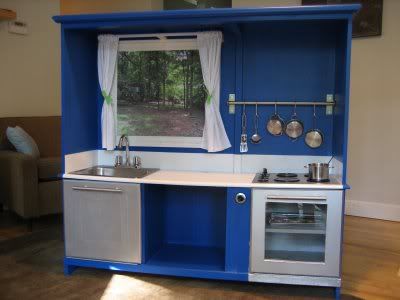 (photo by Erin Woodward)
... *used* to be an entertainment center? Oh yes, the perfect play kitchen made from an outdated and no-longer-used cabinet. Erin at Sutton Grace shared the
how-to's here
, but several of her friends made their own versions
here
and
here
.
Better Play Kitchens
also shares some incredible photos! Go look, be amazed, and then think twice about passing by that thrift store or garage sale "find."
Imagine what could happen over a weekend or two if family, friends, colleagues, and even students' parents and family members donated time, outdated furniture, woodworking skills, paint, and some ingenuity to benefit classrooms, day care centers, and preschools. Use approved materials, maintain safety first, and find out what requirements, if any, your district/employer has for accepting donations.
*****
Bits and bobs, odds and ends. Game pieces, parts of old games, toys, and restaurant prizes... find some uppercase and lowercase alphabet magnets (or make your own), and you can create your own
ABC box (shared by Pink and Green Mama)
, perfect for vocabulary building and developing phonemic awareness (see the rest of Mama's blog post to see particular items she found for letters):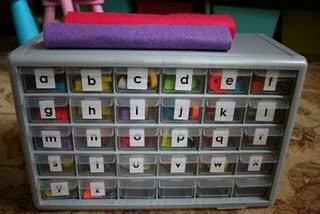 (photo by Marylea)
*****
Do you get your vitamin C from frozen juice concentrate? Save those juice lids to make your own letter or number chips, magnets, or game pieces like the ones
Kierste made for UCreate: ABC's in a Can
: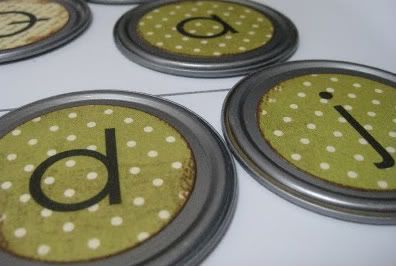 (photo by Kierste at
Brown Paper Packages
)
*****
Please head over to
Teacher Tom's site
for more repurposing and creativity-creating ideas!