Let's play a game... a version of "I Spy."
Help me find a *paddle*.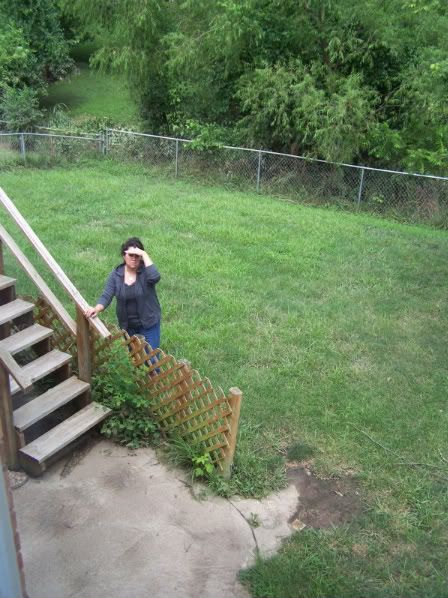 See where I'm standing?
Remember that spot.
I spy... a chain link fence. I spy... a lawn. I spy, brown wood lattice "railing." I spy Mrs. Sommerville! Does anyone see a paddle? No? Let's check the next picture.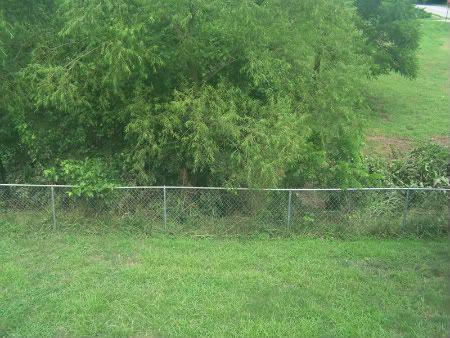 I spy... the chain link fence again. And the yard. Hmmm.... still no paddle.
Next photo.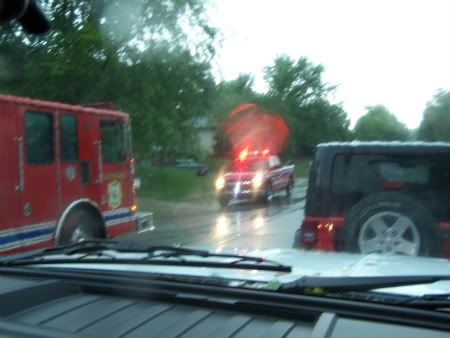 Wait a minute... no lawn, no fence, NO PADDLE. Those are emergency vehicles! I wonder why they're parked in front of the house...
Let's check the backyard again.... there MUST be a paddle back there:
********~Whoa~**********
No, that *can't* be the back yard from the first photo.... can it?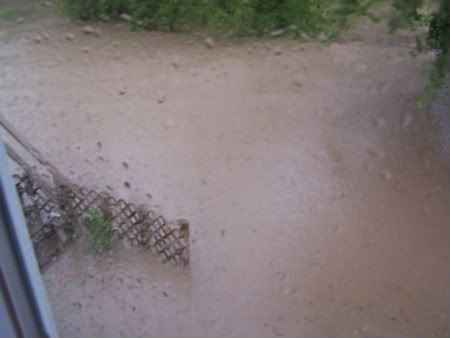 Uh... brown wood lattice "railing"... check. Lawn? Chain link fence?
As it turns out, we don't have a paddle. Nor a canoe, kayak, ark, or skiff.
We went from concrete, yard, and chain link fence to flood in fifteen minutes' time.
F-I-F-T-E-E-N minutes.
*****
We're safe. Dear Husband is on his way home. Our Army Family responded to our call (so many in under a half hour of the "event"), and helped us salvage what we could into the wee hours after the flood. So many have come back for the past two days to help us move things, launder clothes. A good Samaritan saved Dear Husband's truck during the flood itself (it was parked in the rear driveway, which is right next to our backyard, on the same ground level). Friends, wives, soldiers, saved our wedding quilt, saved my wedding gown, saved so many of our keepsakes.
Good thing I prepped my classroom early, huh?
*****
I will be "offline" regarding the blog for probably the next two weeks, packing, cleaning, drying, documenting, getting the family re-settled, and giving thanks that we only have small losses over which to complain, and not huge losses to mourn.
Peace and safety to you all.
*****
A passerby took this photo and just sent it to me- this is the view from the road, into our driveway and back yard. Dear Husband's truck HAD been parked in front of the shed during the flood itself. This photo shows the water RECEDING (you can see the chain link fence again).
Yep, it was a doozie.
No, that is NOT our beachball.