For a few years now, I've been aware that I belong to a spending demographic. When Ritz ran their holiday cracker commercial with
Modern English's "I Melt With You"
as the theme song, I knew *my* wallet was officially their target.
I was a grown up. An adult. Someone whose opinion mattered. Someone who earned more than weekly babysitting money. Or allowance.
It worked. I'm still hooked on Ritz, especially the snowflake shaped crackers they release each winter.
But I digress.
D. and I attended an
art show promoted by Odd Folies
(you remember
Sheila and Craig
, the talented
cabinetry
/collectible/ephemera folks?) last weekend and encountered artist Joseph Blake, a guy who didn't try to bait us as 80's kids, but caught us, hook, line, and sinker with his flowers. This one came home with me: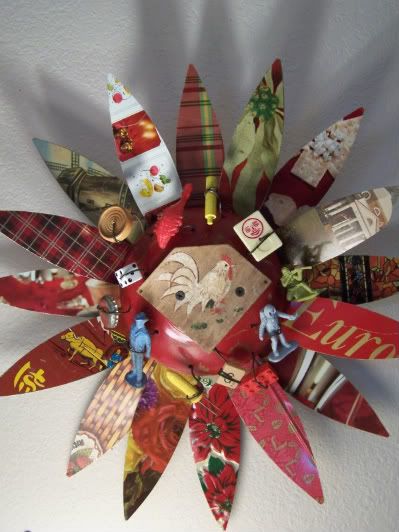 The petals are metal, cut from collected tins and containers...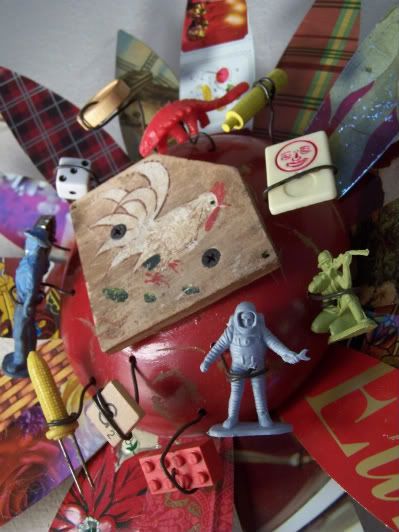 ... and why yes, those are Army guys, legos, scrabble tiles, game pieces, and corn cob picks surrounding the rooster!
The red is sooooo *me*. The Army guy, Dear Husband. The Pre-Schooler loves dinosaurs and Dear Daughter is a Dr. Pepper drinker (see the bottle cap?):
D. and I couldn't stop squealing, smiling, pointing, and laughing with delight as we looked through all of the flower wall art Joseph had on display. Folks, he even had a Holly Hobby flower in all of her brown and yellow glory, a la the 70's! Smurfs, religious icons, political displays, sassy flair buttons and even King Kong were well represented in Joseph's booth.
He soooooo needs a web site. Hint.
Until then, if you'd like to contact him to ask for photos of more of his work, he can be reached
here.
My red rooster with poinsettia/plaid/Monticello/saltine cracker leaves is now hanging in my crafting nook, right where it can continue to inspire me, elicit smiles, and make me feel good about turning 40.