Finding my 40th Birthday Bliss has been surprisingly easy this month. "Surprisingly" because
1) I wasn't searching for it to begin with...
2) My already-busy work and family schedules actually contributed to some of my milestone revelations instead of causing me to miss or skip right past them...
and
3) so many family members, friends, colleagues, students (and their families), new acquaintances and even strangers have shared sweet sentiments, thoughtfulness and kindness during their own hectic-yet-happy holiday preparations. Bright smiles and extended courtesies that seem most prevalent each December always contribute to making my birthday feel special~ those who
know me
will also add that all the extra *~twinkle lights~* and sparkle on display don't hurt either!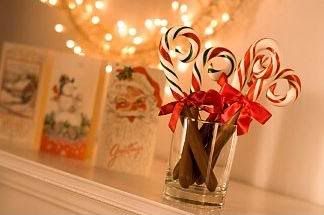 *****
I'm on "winter break" for the next two weeks and have finished mailing out my Christmas cards and holiday packages. Catching up on blog-reading and magazine-perusing is on my agenda, but I've decided that the fun projects and ideas that I've been stumbling across since yesterday afternoon will not be shared with a deadline... recipes can be tried any time of the year, and crafty ideas can certainly be modified and used during other quite suitable months in the classroom or home crafting area.
Creativity abounds, and it's time to stop obliterating the joy of it by forcing it into a must-do-or-die timeline. Does this mean I'm
mellowing with age?
*****
~ Make and Takes shares
handheld jingle bells
(also perfect for classrooms that don't have a set of musical instruments!)...
~
Cut and folded paper garlands
appeal to me over at d.Sharp Journal...
~ NotMartha shares a
tutorial on how to make *the most adorable gingerbread houses*
that rest on the lid of your hot chocolate/coffee/eggnog mug: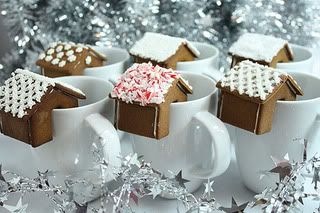 ~ ... and Bubbly Scrumptious offers a
tussie mussie tutorial
that has me inspired for not only Christmas but Valentine's Day as well...
*****
Merry Christmas, Happy Hannukah, Happy Kwanzaa, and Happy Solstice to you Dear Readers~