Yesterday was the perfect autumn day for a drive:

At D.'s suggestion, I went out in search of a "Gypsy Flea Market," driving down winding roads, through beautiful neighborhoods...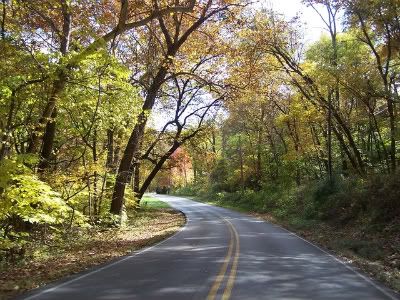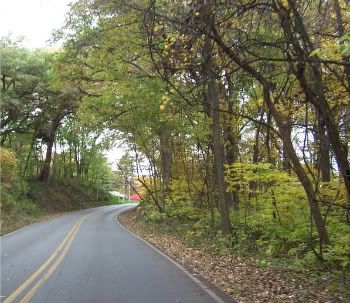 ...and arrived at a clearing which led to a barn, full of hay bales and furniture, odds and ends, books, clinky-clanky jewelry, and home-baked goods.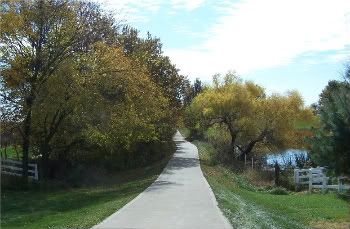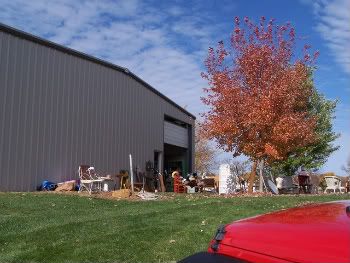 At which point my camera promptly died.

I've gotten into such a habit of carrying it with me wherever I go that I keep forgetting to put it back on its charger each evening. I'm glad it lasted long enough to capture some of fall's splendor.

A Marcrest divided bean bowl and two tussie-mussie holders did manage to come home with me, as did two folding rulers, but the beautiful drive was the real treat yesterday.

*****

After leaving the flea market, I explored Parkville, and quite by accident came across the most heavenly needleart store, "
Florilegium
." Though not a knitter or fiber artist myself, I couldn't help but be inspired by the beautiful and tactile displays- and the cabinetry.... If I could have purchased some of their old pharmacy drawers and cabinets I would have! Click through the sub-categories on
this page
to see some more photos of the shop... oh, the
ribbons
, the
beads
, the
studios
!
*****
I'm three posts away from my 600th blog entry!
To celebrate I'll be updating my blogroll (right hand side- remember, the categories follow kindergarten/teacher themes, though not all links are to other educators' blogs...for example "Snacktime/Lunch
won't
take you to sites featuring healthy snacks for students, but
will
take you to some awesome foodie blogs that inspire me on a regular basis!) and figuring out a fun giveaway that all of my readers (and especially those
following
my blog) can participate in by simply leaving a comment. Check back for details!