I've parked myself in front of the computer screen to swim through over 2000+ blog posts in my read feed this morning, and though there were quite a few subscriptions that I immediately "marked as read" without
really
reading through them, I feel as if I'm back on the blog-happy-path I've been away from since the end of the school year. Crafts, teacher insights, recipes, and sparkle galore, there are a few spots in BlogLand that I'll be roaming through and visiting today...
but
my
**most**
favorite
will
be
A Fanciful Twist's Mad Tea Party, 2009.
*****
Often, children give us clues as to what their heart's desire might be. Yesterday morning, the preschooler (and his dinosaurs) wanted P-A-N-C-A-K-E-S, and perhaps, remembering Mommy's need for visual clues, made sure I'd experience no confusion as to what he/they were all patiently, yes,
patiently
, waiting for when I walked into the kitchen: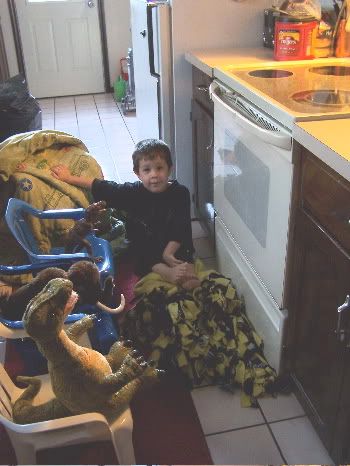 He set up his little chairs, made sure each dinosaur had a comfortable spot for supervising pancake production, and then plopped himself down with his dino buddies and blankies, waiting for my morning coffee to kick in.
*****
Do you and your child love dinosaurs? Check out:
The Dinosaur Toy Blog
Everything Dinosaur
~ Try making
dino soap
!
~ or consider a
snuggly dino-sweater
from Moose Threads...