My trip to Alaska to see my son graduate was full of laughter, exploration, good food, more laughter, shopping, catching up, introductions, and, you guessed it, *laughter* thanks to Girl Power: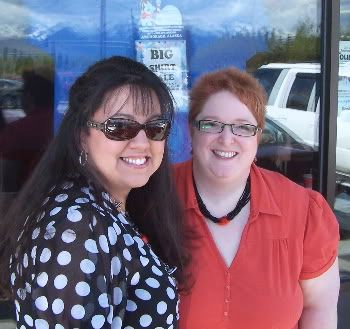 Dear friend (crafter, jewelry maker extraordinaire) Shannon took me to her favorite bead shops and let me wear her wares- psst,
she has her own blog now
!- as she continued to reign supreme as The Hostess With the Mostest in Anchorage...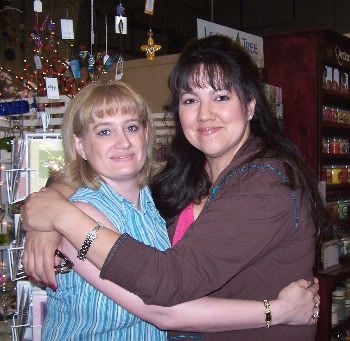 Incredible Polly was my sounding board, dessert-at-Pike's accomplice and home base when I was in Fairbanks (her girls are two of my former students, one is starting her second year of college while the other graduated from high school this month)...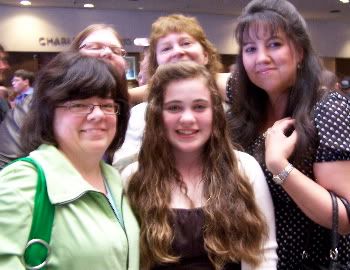 A branch of the Loud Lady Tree made it to the graduation ceremony- no celebration is ever complete without Lori and her girls (see Karen peeking over the top?)... How Lori has all of the energy she does to keep up with her large family is beyond me...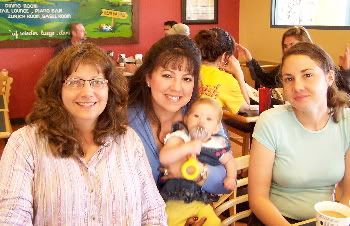 Exceptional friend and former colleague Bev (Karen and Lori are former colleagues too!) introduced me to her new daughter-in-law R. and precious granddaughter S. Prior to our coffee and bagel breakfast, we caught up in her classroom as she tore everything down for summer cleaning...kindergarten teachers are busy, busy, BUSY!
This lady is known as the "Other Bev," and as
another
friend and former colleague of mine, earned the right to smack me up alongside the head as I walked right by her after my son's graduation (she was there to see a nephew). Laughter and smiles all the way around, I wish we could have spent more time together!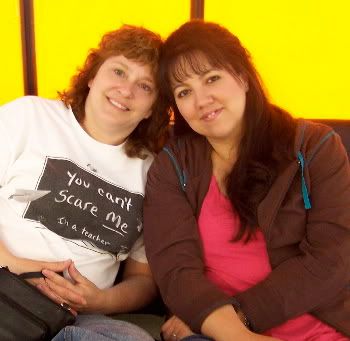 Yes, yes, Karen is wearing a shirt that says "You can't scare ME, I'm a teacher." Soon to be a grandma, I enjoyed meeting her beautiful daughter-in-law Cassandra- celestial banners are in the works for that girl! Karen has always had a knack for bringing humor and peace to stressful situations, and her travel photos are to die for!
Though from very diverse backgrounds, my dearest friends share so many of the same traits: kindness, tolerance, humor, patience (ooooh, they've been soooo very patient with me over the years!), wit, flexibility, joy, and creativity. They are incredibly knowledgeable and inspire me to be a better teacher and friend- and the best part of all,
each one is an expert when it comes to giving HUGS
.
Ladies, thank you for bringing such sunshine to my life.