I enjoy going treasure hunting once a month, visiting antique and vintage stores, seeing what desirables I can find. This weekend I found some Marcrest (seems to also be called "Hull") daisy dot mugs, bowls, and a pristine creamer/pitcher. Two shiny copper pieces also caught my eye, as did a glass jar with mismatched lid: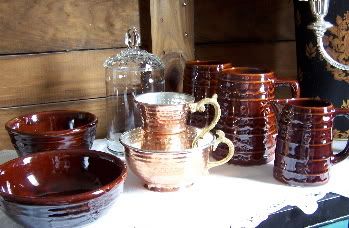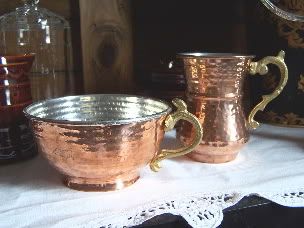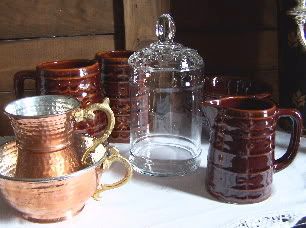 The heavy stoneware pieces are favorites of mine, and the stein-style mugs are perfect for my morning coffee. The copper will be added to my small collection, which will someday be housed in or near my dream kitchen (have you ever imagined decorating your fantasy home?), and the glass jar will join others downstairs in my craft nook.
*****
I'm busy visiting blogs via
OWOH, One World One Heart
today~ the creativity, inspiration and joy is overwhelming! Blog after blog, giveaway after giveaway... I think I'm going to have to pace myself!