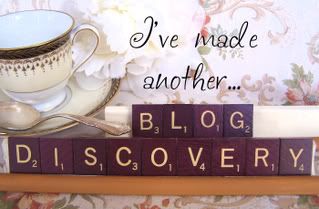 ~ Visit
The Long Thread
, and feel free to blame me for sharing the link to such a wonderful blog when your family starts complaining that you've been glued to your computer *for hours*.
***
The Top 100 Tutorials of 2008
has had me clicking away like mad...
***
Thrifted Holiday Trees
have been added to my "try, try, try" list for 2009...
***The
Winter Village
may have to be created and live alongside my students' graham cracker "gingerbread" houses next year...
***And
Make-it-Mondays
might change my favorite day of the week from Saturday to... well, maybe not, but weekends are sure to be busier in my craft nook thanks to the wonderful ideas posted on the first day of the work week!
*****
Check back for Bits and Blurbs tomorrow!