(by
Sara Bareilles
)
*****
Christmas Day was peaceful, and spent at home. Movies with the family, turkey dinner, content kids and a cat happy to have *her* spot under the tree returned to her...it was all good. Today is another quiet morning, though our "White Christmas" will probably be brown by the end of the day since we're supposed to get into the low 60's. Mud. Not exactly hot chocolate and wool socks weather.
I prefer cooler temperatures. It could be the Eskimo in me, or perhaps I've got a thyroid/peri-menopausal chapter starting early in my life, but cold is good. Not the type of chill that shocks you, gives you the shivers, and makes your bones ache~ but rather the cold that turns your nose and cheeks pink, that braces you for the day, and that makes you want to greet people with a hug.
*****
Brown or not, the classroom is ready for January themes: winter, snow, counting past 50 (the 1ooth Day of School usually falls sometime in February), Kansas Day, Martin Luther King Jr., and this year, Inauguration Day. I'll post photos of the room for you over the weekend, but if you're looking for decor deals as you're out shopping today, or just want to cut out construction paper items, think mittens, snowflakes, and snowmen...silver sparkle, sleds, and hot chocolate if you want to add extra details!
Mitten wreath kit
, on sale at Oriental Trading: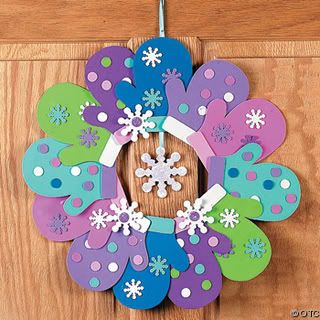 Here's a "first step" snowflake pattern
for young children,
and another
...
Enchanted Learning shares
instructions for making a paper plate snowman
...