It's time for new patterns:
(bone, moon, jack-o-lantern, bone, moon, jack-o-lantern)
New border trim (Mary Englebreit):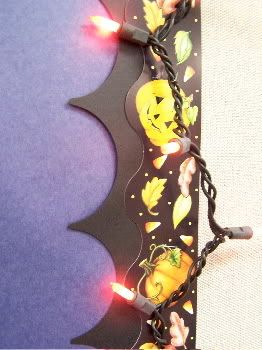 Spiderwebs...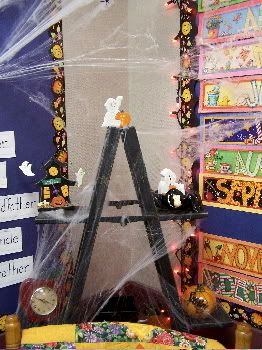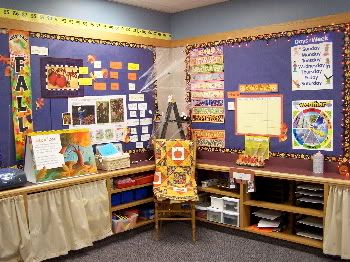 ...a pumpkin quilt, cute characters...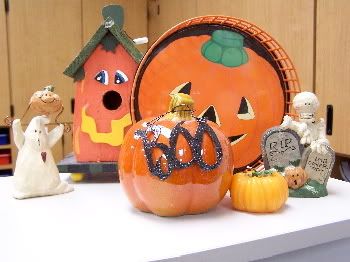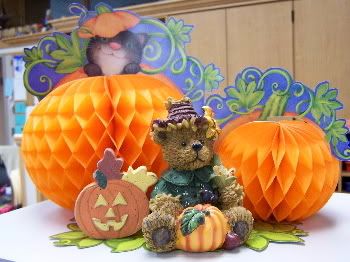 ... a new calendar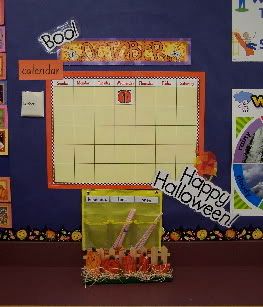 ...and orange twinkle lights!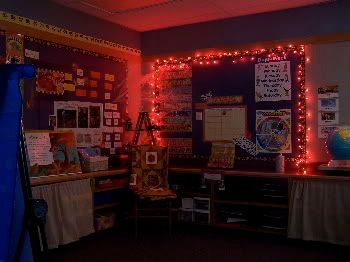 *****
While parents, blog readers and possibly some colleagues see a "cute" room each time I change the decor and learning centers, I see the monthly modifications as inspiration for my students. Kindergartners enjoy holidays and special events, but also need to cover curriculum requirements and develop social, fine and gross motor skills. Providing options, variety, and interesting materials is an essential way to catch the interest of even the most reluctant or anxious child.
~Cutting with scissors daily on plain ol' zig zag lined paper can become boring and repetitious for students who need the extra practice. Add deckle scissors to the cutting activity (and the opportunity to make some awesome art displays with their work) and watch even the most scissor-awkward child eagerly hone his/her cutting skills!
~Each year I have several students who are reluctant to write or draw because they "can't do it" like their tablemate. At the writing center, I provide colored pencils, washable markers, rulers, stencils and flip books with simple pictures and words spelled out. Shapes added to the stencil tub this month: pumpkins, bats, cats, ghosts, leaves, and moon. All students enjoy tracing the stencils and copying the environmental print as they make pictures, cards, and books for their friends and family. Never fear, my aide and I help students sound out words for their writing too!
Patterns, environmental print (I have October word lists posted as well but my students' names and photos are intermixed with them so I'm *not* posting them), dramatic play props (we've turned housekeeping into the "Creature Cafe"), autumn/October themed colors and materials not only make for a fun classroom, they also inspire my students' expression and encourage my Stars to try new things.
November will see some classroom changes too- check back after Halloween to find maize, cornucopias, Indians, Pilgrims, and of course, handprint turkeys!