Goodbye stars, crayons and rainbows...
HELLO leaf spirals, apples, and autumn trees! With the help of our buddy class, my students have transformed their Super Star classroom into a Super Autumn environment!
I traced my students' hands on brown paper for tree trunks, cut them out, glued them to light blue construction paper, and had the Stars use their fingertips to "dot" autumn colored paint onto the paper to create leaves. After the paint was dry, they counted and glued die cut paper apples (an apple shape punch would work great too if you don't have mini die cuts):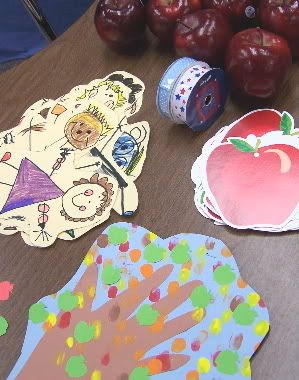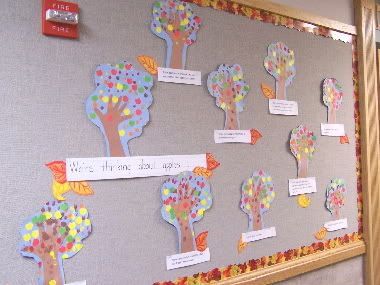 For colorful leaves, I cut transparency sheets in half, and cut autumn colored tissue paper into squares. The Stars then used glue sticks to cover one side of the transparency sheet with glue, and layered the tissue paper on top, overlapping edges. Once dry, my aide took the transparency sheets down to the workroom and cut out leaf shapes with different die cut blocks: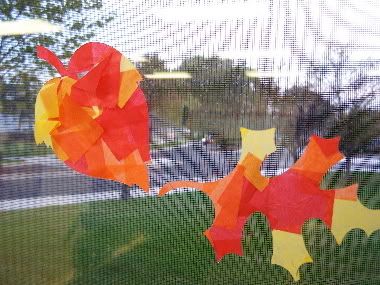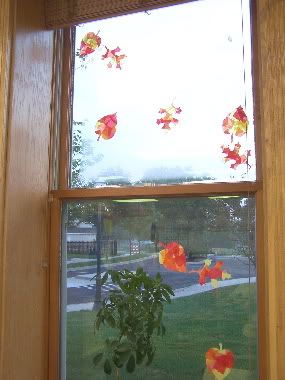 I cut dark brown spirals from 8 1/2 X 11 construction paper, and with the help of our Fifth Grade Buddies, my Super Stars cut out various leaves from red, orange, yellow, and brown construction paper. Our buddies made sure the kindergartners used correct scissor position and that they
turned the paper when cutting
instead of the scissors...no more cut clothing!
Our buddies then helped the Stars glue the cut leaves onto the spiral (their help was appreciated since we didn't want to end up with spirals that were glued closed!):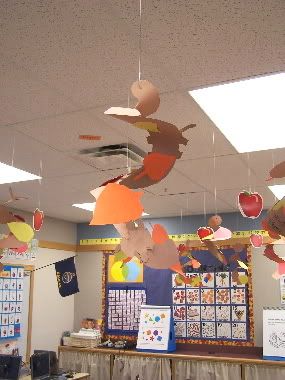 *****
This week I'll also be changing out some of the artwork I hung at the beginning of the school year for more autumn-ey looking displays.
Check back in to see what I'm using the Stars' drawings of themselves (first photo, upper left corner) for this week!