...when you sneak away for an afternoon and wander through some local antique malls!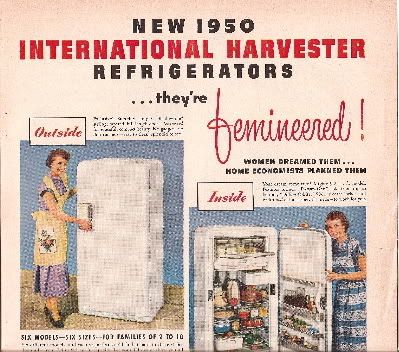 It's a 1950's advertisement for refrigerators, but what caught my eye was the word "femineered." Femineered?
Femineered?
"Women dreamed them, home economists planned them..." And just what did the femineers want as features in their refrigerators? A bottle opener in the door latch, an "egg-o-mat" that would dispense eggs, one or two at a time, and an "exclusive diffuse-o-lite," to light the "entire interior without glare."
Here's the outside: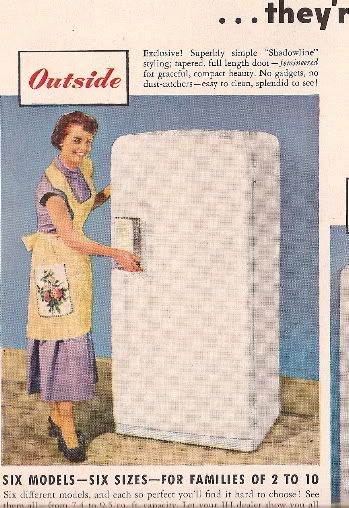 ...and the inside...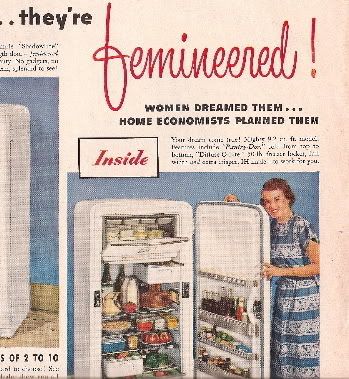 The Canada Science and Technology Museum has a
collection it features about historical Marketing, Design and Consumerism
, and shares:
Magazines, brochures and trade catalogues in the 1950s liberally promoted the image of the attractive and pleasant "homemaker" to tout the merits of electric ranges. Manufacturers appealed to Canadian women consumers' dreams of grandeur by comparing their appliances to gems, with the notions of "deluxe," "imperial" or "royal" embodied in the chrome or gold-plated decorations, dazzling colours, and ease of operation, and conferring upon them the virtue of being "femineered from top to bottom." As early as the 1920s, commercial catalogues suggested that the stove was "as important as your husband."
*****
Thank goodness for today's ephemera humor!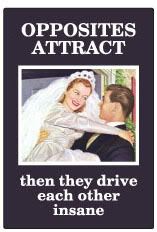 (magnet found at
Ephemera Inc
.)