...but first, another furniture tip!
If your classroom is carpeted, you may find that the custodial staff has to shampoo before you can start arranging furniture. There are metal brads on the "feet" of many kindergarten tables, chairs, easels, book racks, cubby shelves, etc. It's best to let the carpet completely dry, which could take a full day so that the metal brads don't leave rust marks on the floor (a big no-no, and a surefire way to get on your custodian's not-so-chipper-side!) but if you're pressed for time (or just *really* need to see if a planned room layout will work), cover the brads completely with masking tape:
It will take some time to cover the brads, but it will be soooooo worth it in the end!
*****
Dear Daughter came by and helped me make some progress in the room. We spent a lot of our time climbing ladders to hang bulletin board paper and set up kindergarten/school themed vignettes: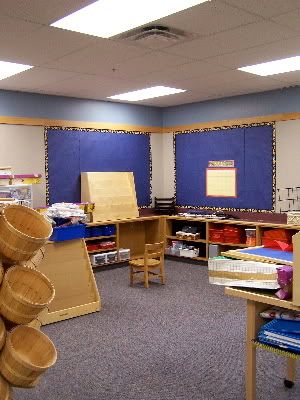 (What will eventually be our "circle time" area for stories, games, calendar, sing-a-longs...)
An area being set up for painting and clay (we're learning about colors so I have multi-colored flags hanging from the ceiling...)
Vignette numero uno (displays that are up and out of the way stay put for the entire year)...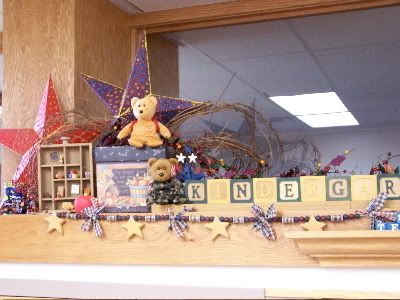 Part of a vignette that spells out "kindergarten," along with some friendly bears and stars...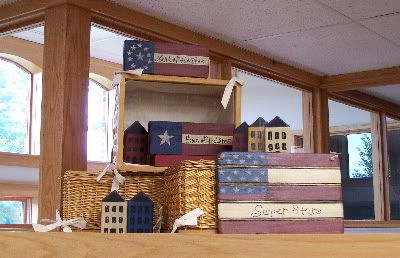 ...and of course, something patriotic!
*****
How is your classroom set up coming along?