In photos my blue bulletin boards really do dominate, don't they? Take a closer look though and you might be able to see signs of fine tuning in this corner, that corner, and some tweaking of the furniture arrangement (and oh look! The chairs have found their appropriate places too!):
To the rear, our reading "circle," literacy/story time/calendar area (I know, I still need a chair):
Students' desks and areas for computers, legos, and all of our math manipulatives (on shelves):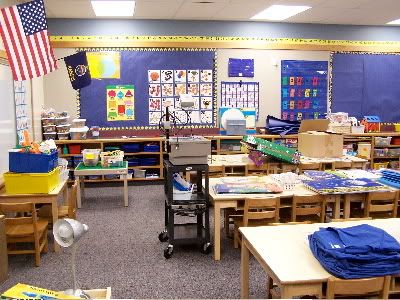 Dramatic Play to the left, puppets in the apple baskets, and painting/clay to the right (yes, I put up Kadinsky, Picasso, and Van Gogh prints):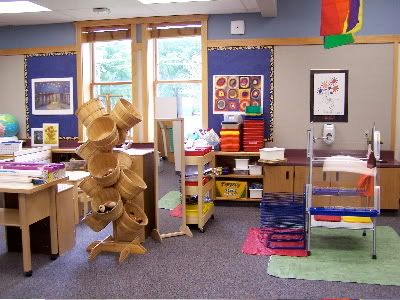 The view from the rear classroom doors, next to the bathroom area:
I'm still sorting materials and supplies on the art cart: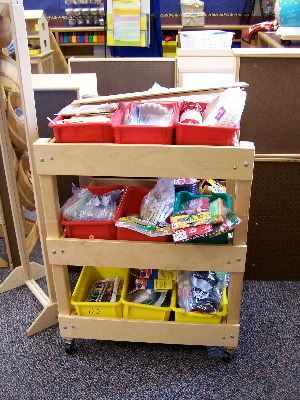 Hmm, it looks like our kitchen (dramatic play) is in need of repair: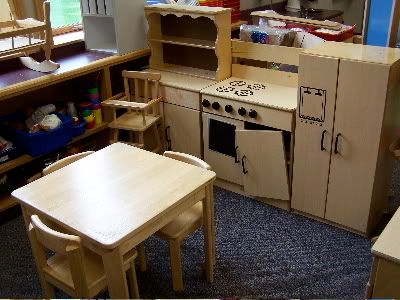 Here's a closer look at our storytime corner. In addition to our books and listening center, I place three tubs of math manipulatives, and three tubs of literacy/language games in this area so my students can have some additional practice with problem solving, patterning, and phonics whenever we get a free moment. I also use this area to introduce and explain worksheets or model small paper activities that tie into stories we've just read before sending students to work at their tables. Having their attention away from the noise of the hallway is a *good thing!*
And finally, a view from the storytime corner looking toward the front of the room. I have our wooden blocks and other large building manipulatives housed in the bookcase that is almost center photograph- the floor area is open enough that students can spread out, building cities, kingdoms, neighborhoods, and on carpet which will hopefully cushion/soften the noise created by the solid wooden blocks!
*****
I'm going to try to finish up my classroom arrangements and decor this week. I'll make center tags, hang some more decor from the ceiling over the students' desks (it's a wonderful place for patterns and art display), get the table baskets filled with crayons, pencils, glue and scissors, and start putting together journals. I'll get the curriculum kits reassembled, take a look at the kindergarten standards for Oz, and figure out a template for my lesson plans. Next week all teachers will meet for professional development at our school and throughout other district locations- I'll keep you posted!
*****
~ Head over to The Chancellor's New Clothes for this week's
Carnival of Education
(you might find someone familiar linked there!)...
~ No, I haven't forgotten that you enjoy trying out new recipes as much as I do! Once I see some pretty blueberries in the grocery store, I'm going to try
Smitten Kitchen's Blueberry Crumb Bars
and
Blueberry Pancakes
... I must have
BLUE
on the brain this week!
~ Ever cooked
Eggs in a Basket?
I've wanted to ever since Moonstruck came out (Olympia Dukakis makes it for breakfast in one scene). Thanks to The Pioneer Woman Cooks for sharing the method!