Which would be a change for me, frankly! Not that all of my Mondays have been miserable in the past, but they've been, well...
Mondaaaaaaaays
.
Until this year. Since January 1, 2008, I've had some pretty terrific day-after-Sundays. I was contacted for an initial interview with my new school district on a Monday. The interview itself was on a Monday, and I was offered a job that very afternoon! Humorous emails have been sent my way, I've had great timing at the grocery store on early Monday mornings, and the toddler has even slept in occasionally...all on Mondays.
And then there was today, THIS Monday. When I checked my email I found a message from GoodyBlog, notifying me that I had won this: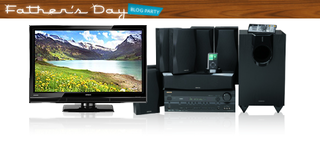 A wonderful Father's Day Giveaway was hosted at their site, so I entered. Once we get to our new home in Oz, a fifty inch plasma t.v. and surround sound system will be on its way to us, belated perhaps, but still very much appreciated by my husband.
GoodyBlog
and
Shop.com
, you are AWESOME!
See what I mean about Mondays?
*****
Check out the temp in my truck: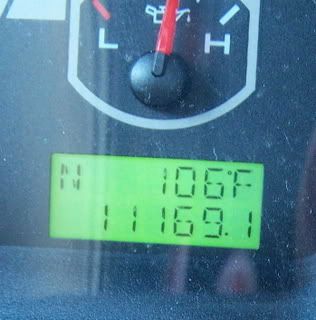 No matter! Inside, where the air conditioner is working just fine, it's cool enough for me to crochet a scarf with left over baby yarn: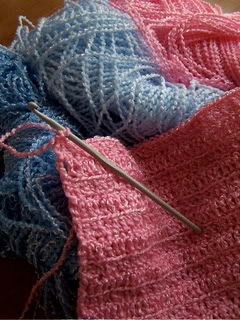 *****
I've enjoyed checking on my blog visitor information provided by
Lijit
and have to laugh at some of the searches that seem to bring people to my site..."freakyoldwoman" (huh?), "weird crafts" (hey, I think they're pretty!), and "wanna-be-decorator" (nope, I'm not a professional!). A big *shout out* to Winter Park, Florida...Hays, Kansas...and most especially, Germantown, Maryland. You've been searching for ME, point-blank! Feel free to say hello sometime! It's wonderful seeing that I've been visited by readers in Great Britain, Mexico, Canada, Australia~
welcome All
!
*****
Selfishly, I've been feeling a bit bummed though. Some of my favorite writers/bloggers have chosen to move on to greener non-blogging pastures. Understandable, yes. We all grow, change, move on. But sad too, like when the last episodes of Mary Tyler Moore or M*A*S*H were broadcast. There I go dating myself again. Hopefully their archives will be left up so I can revisit from time to time. Recipes, crafting, altered artistry, poetry, criticism, edu-blogging. I've been an appreciative lurker. I'll miss you.
*****
Thankfully...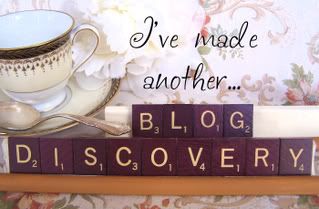 *
A Fanciful Twist
(full of happy, vibrant creatures and wonderful photography~ I can't wait to visit
Vanessa's Etsy shop
to choose a favorite little magical tree or creature to purchase!)
*****
I hope you had a wonderful weekend!