Summer fun and summer sun make for apple red cheeks and a desire to make multiple passes through the playground equipment!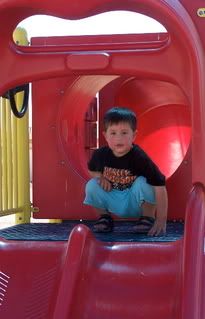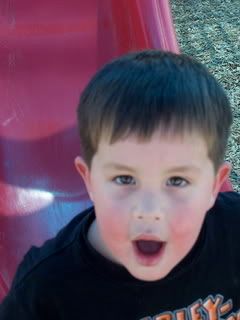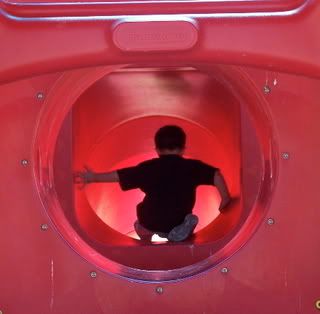 *****
It's June 2 and I've got moving on the brain. Today's to-do list includes paper shredding, family-document-binder-organizing, letter writing, and blogroll tending. Add to that the daily chores of laundry, vacuuming, with a lot of playing with the toddler thrown in for good measure, and I have a full schedule. This is Dear Daughter's last week of school- her "transition ceremony" (apparently it's not called "graduation" here) from junior high takes place later in the week, along with her first semi-formal school dance. Dear Husband is having some mild heart attacks over it all, while I'm looking forward to seeing her gussied up again. She used to be such a girlie girl, all dresses, hair bows and pretty tights, but time has certainly marched on, and functional fashion has replaced the frillies. Volleyball, tennis and track will do that I guess! She'll be a high schooler. Our eldest graduates in 2009, daughter in 2012, and toddler in, what....2022? Yikes!
Getting back on track~ the packers come to start filling my house with big brown boxes on June 24. We drive back to Oz around June 27 or so. The fourth of July will be spent in our new home, though I'm not sure we'll have our household goods by then~ seems I need to add "posting-blogs-in-the-queue-just-in-case-we-don't-have-computer
-access-for-a-bit" to my to-do list.
*****
*Check out
the latest edition of Kids Craft Weekly
and of course subscribe for a summer full of wonderful,
developmentally appropriate
early childhood/family activities.
*Photo Jojo has me thinking of
fun ways to take group photos
...after all, for military formals, family get-togethers, etc., we always pose, huddling in, trying to smile sincerely, trying NOT to blink. Time for FUN to be reintroduced to my photography!
*Before you sign your children up for every sports or camp activity known for their summer "break," read
Children Deprived of Time to Play Are Deprived of the Childhood they Need and Deserve.
As usual, I'll be spending time with my children running through the sprinkler, drawing pictures in the sand with a stick, going for walks (either early in the morning or after dinner due to the daytime heat), playing board games, and letting them play by themselves, on their own.
*****
Have you been Seeing Red? Do tell, and
check out the links to other participants
at Sadie Olive!