In my youth, whenever I was asked what I wanted to be when I grew up, I replied that I wanted to be an astronaut, princess, restaurant owner, mommy, and book author.
I also wanted to be Wonder Woman: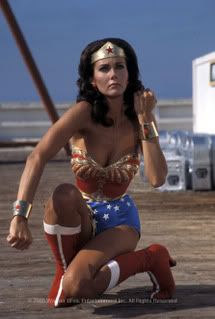 Can you blame me? Gorgeous, big hair, awesome figure, bullet-proof bracelets, stylin' boots, a tiara, stars...and she could always get the truth out of people (okay, so she had to lasso them to do it...
still
...)
*****
Can Wonder Woman cook/bake? Just wondering!
*Leave it to Cakespy to post the recipe I've been looking for all year!
BISCOCHITO!
*Smitten Kitchen shares a recipe for
Crispy Salted Oatmeal White Chocolate Cookies
that I HAVE to try this week...
*Tracy Porter shares her mother's friend's
Decadent Crab Appetizer
*Did you watch Oprah's Sandwich Showdown?
Here are the recipes
(I can't wait to try the
Lobster Grilled Cheese
by Billy Grant)!
*****
Decor8 has posted the
mother of all linktime blogs showcasing Australian Design
- I'm going to spend most of my weekend clicking away...watch out blogroll!
*****