What to do with leftover tulle, red and blue fabric, and red polka-dotted ribbon?
Make a new wreath to go with my updated patriotic decor, of course!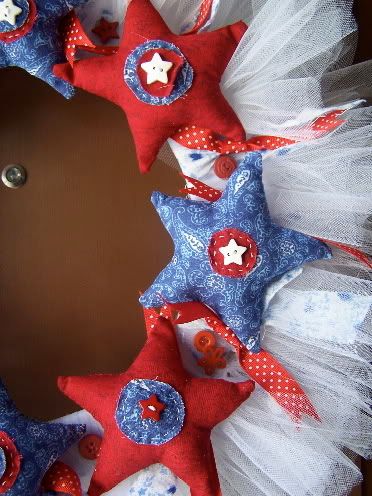 I had enough fabric and tulle left over to make a mini-wreath as well: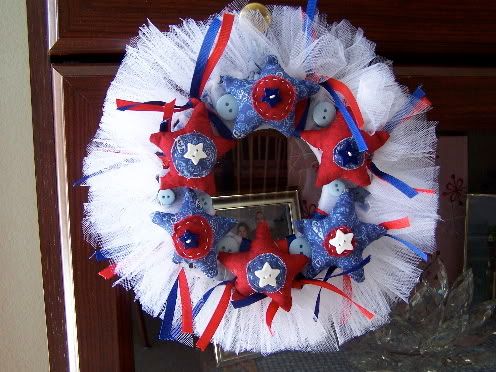 It's small enough to fit inside the opening on the larger wreath, but it looks a bit overkill on the tulle, if you ask me (so no, they won't be kept like this):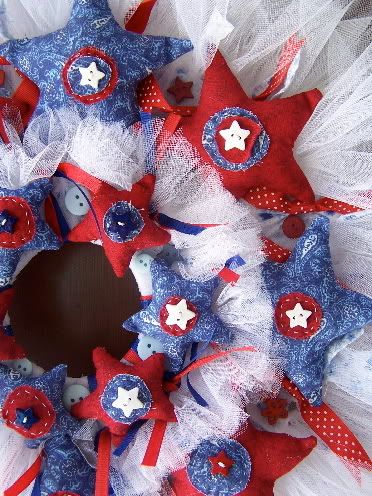 ---
SallyJean has posted her
April Celebration List.
..CakeSpy posts a tribute (with history) to one of my favorite treats, the
macaroon cookie
(what do you mean it's "ugly?")...
mbartdesign
has some cute altered art
charm bracelets (patriotic even
!)
Linda Bertino at
Charming Trinkets
also has too-many-charms-are-never-enough jewelry that include brooches and barrettes, sorted by category:
Patriotic
;
Tea/Java Joy
;
Fish and Sea Life
; and many more. Though many of her pieces are marked "sold," it appears she takes custom orders and can come close to duplicating what you might find on her site.
And if you want to immerse yourself in Americana decor, try
The Country Porch.
..
---
---
Here's an idea...
Why not visit the presidential candidates' official web sites instead of listening to biased pundits, talk-show hosts, spin doctors, and celebrities who would like to do your thinking for you? I know the sites are professionally produced as well, but for those of us who won't be able to meet (much less chat with) the candidates in person, this might just be the best way to get as close to each horses' mouth as possible. Review their ideas, check their voting record, listen to their messages and
form your own opinion
:
Barack Obama
Hillary Clinton
John McCain