...there's no place like home!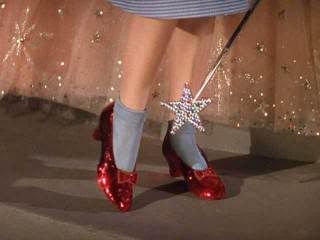 And "home" is a classroom in Kansas!
I had my very first phone interview yesterday afternoon, a kind of "initial-meet-and-greet" event. It ended up being full of laughter and cut-off sentences with asides that made the whole call such a friendly and upbeat conversation- which *would* have carried me through the rest of the day with its lingering energetic buzz if I hadn't been called five minutes later and offered a teaching position by the deputy superintendent! Now here I am, the morning after, and I'm still smiling, grinning, walking with a spring in my step, typing like mad
without
the help of multiple mugs of coffee! It's a very good sign, don't you think, when you have a
Terrific Monday
?
It will be two months before I report for duty- two months and my mind is racing NOW. Since I don't know what grade I'll be teaching, and I don't know which school will house my classroom and students, it's a bit like waiting for Christmas, with the present sitting there, under the tree, ever-so-slightly taunting me as I glance its way. I can eyeball a few grades' worth of Kansas State Standards until then just so I can have my bases covered, decorate a classroom binder or two for school info and lesson plans, make a few "Welcome to School" banners, finish reading the books on my current book list and find a copy of the text that my new school district is taking on as a collegial book study project... update my blogroll, make sure I'm subscribed to all of the podcasts I've been enjoying this year, write my introductory letter... Once we're moved and unpacked I can move on to the silly things, like ironing all of my teacher dresses and making sure my teacher jewelry is sorted!
What a wonderful start to the week!