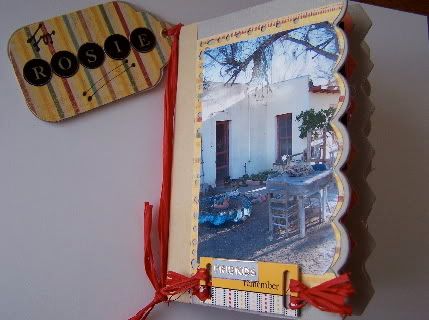 I finished Rosie's "thank you" chipboard book...I think. I'm uncertain whether or not the project is complete because I've never assembled a book like this before. Photo albums with sticky pages and crinkly clear sheet covers (shudder), recipe books with page protectors, lesson plan books with subject areas highlighted...yes. Chipboard books...no.
It's small, maybe 4X6. Only eight surfaces upon which I could add pictures and embellishments. Photos of the exterior of Rosie's workshop are on the cover, while the interiors are on the middle pages, along with a photo of me and Shannon.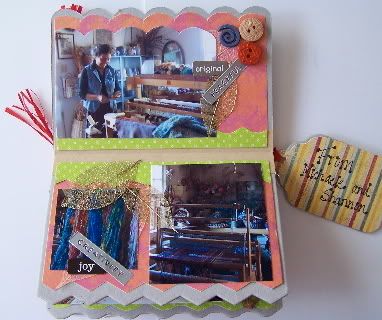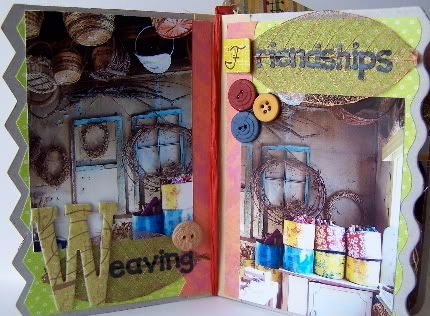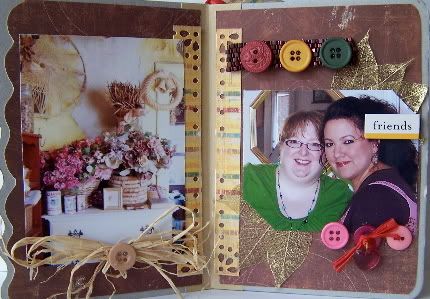 Shannon contributed the title as well as a piece of burgundy beadwork that is a terrific textural element. As Rosie is a weaver, raffia seemed a natural product to use for the tags. Earthy tones for both Rosie and Shannon, with a touch of pink, since Rosie made mention of my pink cheeks and nails, and told her five year old grandson I was as sweet as candy. I told him I was sour sometimes too, like pink lemonade!
It was fun putting the book together, but I think in the future I'll spend more time matching papers, fonts, stickers, embellishments...to see what really catches my eye without overwhelming it. Imagine, *me*, "toning it down." Wonder of wonders, miracle of miracles...