Something's coming over the mountains today: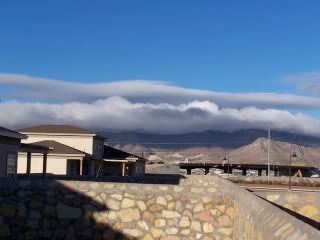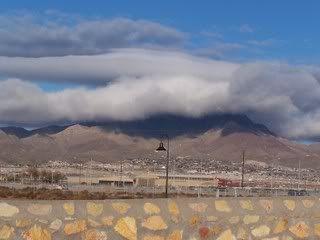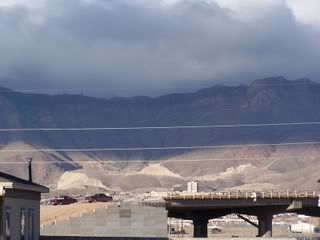 I'm glad to have something idea-inspiring to read when the dust kicks up, wind starts howling, and tumbleweeds go whizzing past my windows: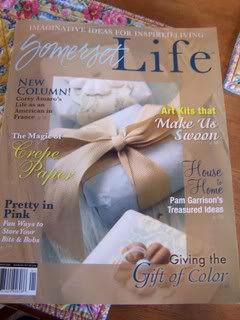 Hearing so much about Somerset from the crafty bloggers I read each day made me take the fifteen-dollar-plunge at B&N this past weekend. Guess what? I'll be subscribing.
Talking with my husband last night, I introduced the idea that once our new duty station comes through and we have floorplans for our future housing, I'd like to figure out a way to have my own craft/sewing workstation, perhaps sharing a study with him. Ideally, I'd love to have my own space, free of children, toys, seasonal clothes in storage tubs, and frankly, my husband's stuff. Hunting gear, guns, military awards, and Harley logos are not what get my creative juices flowing...his support of testing gravity by letting all magazines, papers, catalogs, receipts, brochures, business cards, etc. live on the floor of his study is also a major obstacle to overcome before we could seriously share a space. I think I'm talking myself out of it here!
How do we share space in the rest of the house? I'm the boss, that's how. You see, my husband's job requires that we move regularly. MORE than regularly in fact. We've moved four times in the past five years, with another move coming up this summer. The kids and I don't get a say in where we move to, what jobs or friends we have to leave behind, nor how long we'll stay or how quickly we'll have to leave again. So the public parts of the house are decorated the way I want them to be with my husband and kids having their own spaces reflecting their personalities and tastes. Yes, I make sure my husband has his man-cave, and the garage is always his. But because we have no say in the move-us-cross-country-or-even-OUT-of-country decisions, I lay down the law when it comes to home decor, storage, and household chores. We may not get to choose where we're going to have to live, but I *will* have my family living in a clean, comfortable, soothing, and inviting home, dadgummit!
Once I get an idea of what kind of housing we'll be in, I need to figure out a way to effectively create my own space, keep other family members (and the required military/social visitors) from encroaching upon it, and scheduling time for myself to spend in it, seeing creative ideas come to fruition. Until then, I'll continue to explore, collect ideas and a few bits and bobs and inevitably, see what happens after this Bordertown's windy season.
*********************************************************************
Here are some blogs I've recently been enjoying:
Sally Jean
: I love her charms- so sweet!
Cari Kraft's
What Should We Make Today
: Creative banners appeal to the teacher AND mom in me...
And if you need a good laugh or a "saucy" story, get your fix over at
Bloggedy-Blog-Blog
.
Don't forget our soldiers this Valentine's Day (or ever!)-
An Army Wife's Life
has
posted links and ideas about cards and care packages for soldiers and veterans
. Even if you miss Valentine's Day, remember it's never "too late" to show our soldiers how much you care- even plain ol' Tuesday is a holiday when an unexpected care package with goodies and treats or a "thinking about you" card or letter is received.
*****************************************************************
Please vote. Before you do, please think. Think about something deeper and more relevant than gender or race. Thanks.