I am a collector. It wasn't until this morning that I realized that many of my collections have something to do with dining, though I do have home decor tchotchke, childrens books, purse and jewelry stashes as well.
I love dishes. Occupied Japan Noritake for the "old" stuff, newer more masculine
Noritake
for the family holiday china, my Carlyle by
Royal Doulton
for me, myself and I (it was regularly used while my husband was deployed), and the everyday stoneware that holds up to any meal and any family member, including the toddler who likes to test gravity during mealtime several times a week. Our daughter's china collection has already started thanks to Grammy's initial gift and our tag sale excursions since.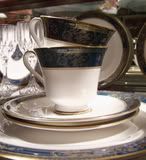 Antique stores throughout New Mexico, Texas and Kansas have multiplied my one
salt cellar
to eleven, and yes, I'm still on the lookout for number twelve.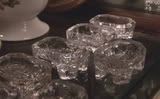 Ebay has contributed to my
Vera Bradley
habit...considerably. Placemat sets, napkins, runners, and tablecloths are crammed into the drawers of my china hutch, sorted by the season in which they are used. They're beautiful and they're
machine washable
. 'Nuf said.
Other food/meal related collections in my home: vintage spice tins; cake plates; platters; copper tea kettles, canisters and cookie cutters. A Russian
samovar
keeps company with various lacquered bowls, cups, spoons, plates, and covered dishes.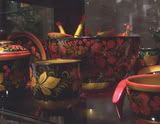 I'm awaiting the outcome of a beautiful Russian lacquer platter being sold on Ebay as I type. Bid, bid, bid! My
epergne
is one piece of serving crystal that I use
regularly
.
So I've decided to branch out a bit. Yes, I have a thimble collection, and Vera Bradley inhabits much of my allotted space for
purses
in my bedroom closet. My inner diva loves the sparkle of
Kirk's Folly
(it helps that kindergartners find glitter delightful too... "Hey, I'm buying the brooch for my job, REALLY!") and my husband seems determined to keep me well stocked in ballgowns for our military formals.
What to add? I'm thinking heart shaped
ex-votos
: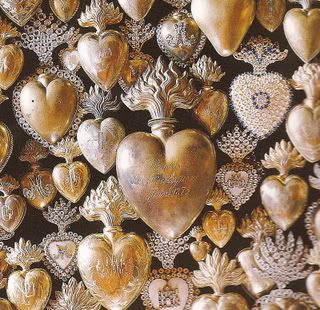 (photo by Peter Vitale, featured in "Veranda," November-December 2007)
Can't eat with them. Can't (and shouldn't!) use them to serve food. And since I "heart" unique art and expressions of faith as much as I "heart" dishware, this could be the start of a beautiful collection!