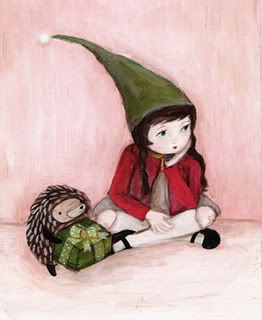 Aptly named "
Absolutely Beautiful Things
" has hosted a Christmas Competition (now closed) for the last three weeks. Photos and stories have been shared from all over the world, so go take a peek:
Week 3
Week 2
Week 1
A Storybook Life
offers holiday tips for
picking out the perfect Christmas tree
and
taking part
in holiday events in your hometown.
Apparently it's a very
Diva Christmas
at
Selfridges
in London (thanks to
Paris Parfait
for sharing her photographs!)
Anti-Yawn is passing out grades (hey, are you a teacher?) in the
Ultimate Guide to Tacky Christmas Decorations
, and though it's a bit dated, it's still a fun one to read.
If you're maxxed out from the sparkle, glitter, sugar cookies and mistletoe, head over to
Normal Room
where you can have a peek into rooms from around the world (yes, WORLD).
I think I'll give myself half an hour on my birthday (six days away) to sit back and check through the blogroll, add some more links, read some more insight and words of wisdom from fellow teachers, and just send a quiet, calm wish for peace out into the void.
Merry Christmas, and to you teachers, HAPPY WINTER BREAK!